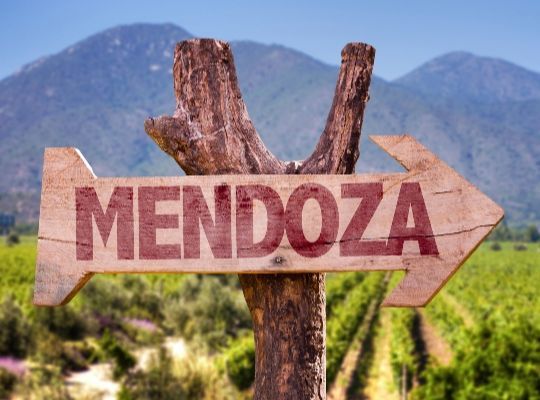 Event Description
Welcome to the Beautiful South evening tasting where we will taste some of the best wines that South America has to offer from Maipo to Mendoza. Whilst there are many similarities between the modern success stories of Chilean and Argentinean wine, these countries have very different approaches. Chile has diversified to provide a huge array of different grape varieties from different regions up and down this narrow strip of land. Meanwhile Argentina has concentrated on making seriously robust, intense and complex reds from the Malbec grape. However, there is rather more to Argentina than "just" Malbec as you will discover tonight.
Part 1: Chile
One of the UK's favourite countries for supplying good-value, fruit-driven wines
Chile's climate is ideal for winemaking. It has a long coastline with the Pacific Ocean and is backed by the Andes Mountains. The climate is predominantly Mediterranean with cool, moderate and warm regions allowing a huge variety of grape varieties and wine styles.
We start with a great example of a "New World" Chardonnay from a moderately warm region. Combining natural stone fruit flavours with butter and vanilla from winemaking technique, this full-bodied wine is so different from a Chablis in France, reflecting how well this variety reflects where it is made, or its "Terroir" as the French would say.
Chilean Merlot are words that find their way onto many "house wines" in the UK, but from a premium region such as Maipo and in the hands of a skilled winemaker, the Merlot grape can deliver a real glassful of fruity exuberance, without excessively high acidity or tannin. Just a perfectly balanced wine.
Argentina is rightly famous for its Malbec, but many are unaware that Chile also has its own superstar black grape in the shape of Carménère. Originally thought to be Merlot, it wasn't until DNA testing identified it as a completely separate variety that Chile noticed what they had. This fruity, herbaceous, full-bodied wine, often aged in oak might just be your new favourite wine.
Part 2: Argentina
Argentina, on the other side of the Andes Mountain range, has an entirely different climate, much hotter and arid & also has its own superstar grape variety in the shape of Malbec.
We start however with something very different. From the highest vineyards in the world in Salta comes the delightful and uniquely Argentinian Torrontes grape variety. This highly perfumed white wine is descended from Muscat and shares its floral aromas together with spices reminiscent of Gewurztraminer.
Moving to the other end of the wine producing regions of Argentina we visit Patagonia for a very different style of wine. Here they are producing outstanding Cabernet Franc, very different in style to that produced in its Loire Valley homeland. We will sample one of these up-and-coming wines.
Finally, of course no visit to Argentina can be complete with a Malbec. We have a traditional full-bodied Malbec from Mendoza province for you to enjoy.
As well as six lovely wines to taste, tonight we will also explain a few basic "rules" for storing and serving wines to appreciate them at their best.
Professional ISO tasting glasses, all course materials including tasting sheets & water are provided
Salud Amigos!
Local Wine Schools in the Press

'The best wine courses and classes in the UK'
Daily Telegraph

'Londons loveliest wine tasting classes'
Time Out Magazine