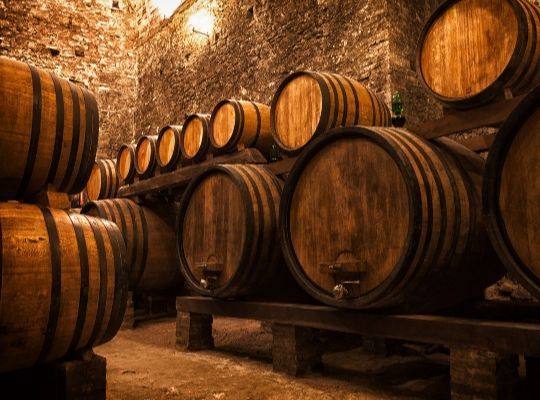 Course Description
Our 4-Week European Wine course is a wonderful way to improve your knowledge of wines made in Europe as we taste our way across the continent. No experience necessary, and within minutes you will be "tasting like a professional".
As well as tasting 26 lovely wines and finding out about how and where they are made we also decode the mysteries of wine labelling so that you understand your AOC from your IGP and your DOCG from your IGT.
Further special attention is paid to the mysterious French term "Terroir" and how this affects the taste of the wine in your glass.
Whilst in Italy we examine food and wine matching principles, and whilst visiting Spain we look at how ageing wine in oak barrels affects it and how different types of oak barrels make a real difference.
The four weeks are shown in more detail below, with grape varieties shown in bold.
Week 1: Introduction to European Wines (27th January)
Learn the basics of wine tasting and European wine labelling before journeying across Europe to taste 6 lovely wines, 3 white and 3 red from 5 different countries: France, Spain, Italy, Germany & Austria.
Italy: Pinot Grigio
Austria: Grüner Veltliner
Germany: Riesling
France (Bordeaux, Right Bank): Merlot/Cabernet Sauvignon
France (Southern Rhône Valley): Grenache/Syrah
Spain (Ribera del Duero): Tempranillo
Week 2: The Tour de France (3rd February)
The most famous wine-producing country in the world produces a myriad of styles and most grape varieties you've heard of are grown here. In this special evening we taste seven classic French wines, and decode the mysterious word "Terroir".
Alsace: Riesling or Gewurztraminer or Pinot Gris
Burgundy: Chardonnay and Pinot Noir
Loire Valley: Chenin Blanc and Sauvignon Blanc
Bordeaux, Left Bank: Cabernet Sauvignon/Merlot
Northern Rhône Valley: Syrah
Week 3: Magnificent Italy (17th February)
A real treat as we visit the largest wine producing country in the world, to sample seven from its multitude of famous wines. We also explore the principles of ensuring your food and wine match perfectly.
Our Italian wines will be seven selected from the list below with at least one from each named region.
Veneto: Corvina or Gargenega
Piedmont: Cortese and/or Barbera and/or Nebbiolo
Tuscany: Sangiovese
Puglia/Campania/Basilicata: Primitivo or Negroamaro and/or Fiano or Aglianico
Sicily: Nero d'Avola
Week 4: Discover Spain & Portugal (24th February)
From super refreshing white wines, to oaky aged wines from classic indigenous grape varieties there is so much to enjoy here, all accompanied by some Spanish-themed snacks. We also explore some of the science behind ageing wines in oak barrels.
Our Spanish and Portuguese wine tour will be like this:
Galicia: :Albariño
Duero Valley: Verdejo
La Rioja: Tempranillo
Catalonia: Garnacha
Alicante: Monastrell
Portugal: Touriga Nacional
Professional ISO tasting glasses, all course materials including tasting sheets & water are provided, along with some suitable regional snacks to help the wine along.