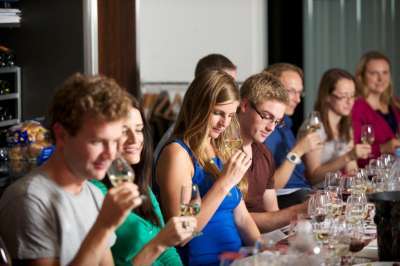 Posted on
Do you enjoy wine but buy the same wine, week after week? Or perhaps you go for whatever wine is on offer? Do you buy wine based on the attractiveness of the label? What about in a restaurant - do you go for the wine that's priced just above the house wine on the wine list?
If your answer is yes to any of the above, don't worry, you are not alone. And I'd be the first to accept, wine can appear to be confusing. There are different countries, regions, grape varieties, styles, and colours to get to grips with. It's not made any easier by the fact that when you stand in front of the supermarket wall of wine all the bottles pretty much look the same, ok a few labels might stand out more than others but it's not easy to find a wine you know you will like.
Yet, it is the sheer diversity of wine and the fact that one bottle doesn't taste the same as another that I think makes it such a fascinating and exciting drink. There is literally a whole world of wine to explore. Wine doesn't just come from a tap, it is made by people, individuals who put an amazing amount of care and passion into every bottle they make.
It's a shame that wine has traditionally been surrounded by slightly elitist and snobby language, I know this puts people off engaging with wine and makes it seem less accessible. If you enjoy food and want to learn how to cook, you do a cookery course to teach you the skills to make your food even more enjoyable. It's the same with wine, if you enjoy wine then a good wine class will teach you the skills you need to make wine more enjoyable.
This, for me, is the major benefit of attending a wine class. You'll enhance your overall enjoyment and discover that the world of wine is suddenly much more accessible. Wine will no longer seem so intimidating. A little bit of wine knowledge really does go a long, long way to enhancing your enjoyment of wine.
Every wine has a story to tell, and you'll get so much more from it if you understand what's in your glass and why it tastes like it does. A good wine class will show you how to taste wine and how to work out which wines you like and why. You might know you like New Zealand Sauvignon Blanc – but do you know why? Is it because it tastes fruity? Is it because it's not aged in oak? If you know why then it will be easier to find similar wines that you'll like.
You don't need to worry about not being able to taste wine – anybody can do it. Yes, there's a basic technique to learn but you don't need sensorial super-skills to be able to taste wine. Just a mouth and a nose! After just a couple of hours a good wine class will have you swirling, sniffing and sipping like a pro!
Wine classes are also extremely social and a chance to spend time with like-minded enthusiasts and immerse yourself in a fascinating subject. There's nothing more social than relaxing with a glass of wine and chatting with other people whilst sharing wine stories and wine experiences.
For some a good wine class will simply equip them with the tools they need to navigate the wine aisle more successfully and make smarter wine choices in shops and restaurants. For others, it might ignite their interest and propel them to take a longer wine course or maybe even consider a professional wine qualification such as offered by the WSET (Wine & Spirit Education Trust).
You might even end up like me and make a career out of helping people squeeze as much enjoyment as possible out of every single drop.