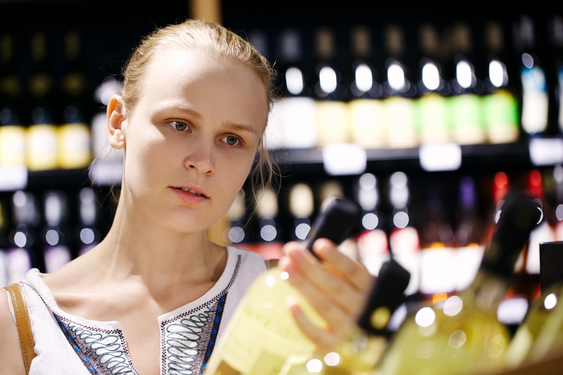 Posted on
I remember when I went to the supermarket to buy my first bottle of wine. As a young man I knew nothing about wine but had enjoyed drinking my dad's wine at every opportunity. I thought it would be easy to find a good one.
It was anything but easy. I was confronted by hundreds of bottles on the shelves that all looked pretty much the same apart from the odd label that stood out. There were different countries, different grape varieties and different languages to navigate. Needless to say, I just picked up the first bottle of Shiraz I saw because that what was always enjoyed at home. I seem to remember it was on offer at £3.99 (that's giving my age away!) It wasn't a good one.
So, here are my top tips to help you choose a good bottle.
1. Don't just buy with your eyes. Look beyond the garish, eye-catching designs as they are often disguising average quality wines. Instead pay attention to the information on the label (like country or region) that will tell you where it's from and most importantly the grape variety which will tell you more about what's inside the bottle.
2. Beware of the marketing 'spiel'. Often labels will feature words like 'Limited Edition', 'Winemakers Selection' or 'Grande Reserve' – these are quality cues dreamt up by marketeers with no official meaning. Avoid unless they are substantiated.
3. Resist the temptation to buy on deal. The discount will be built into the retail price; with wine it really is the case that you get what you pay for…
4. Spend £7.50 to get a good bottle. A fixed amount of £2.23 of the price of still wine currently goes to the taxman. Add VAT and after labelling, packaging, transport, marketing and margins there's not much left of the price of a £5 bottle of wine to buy the liquid inside. The more you spend the more of your money is going on the grapes. Of course, it's not guaranteed that every bottle of wine at £7.50 will be good, but your chances are significantly better than if you spend £5!
5. Make some notes when you buy a good wine. It sounds obvious but if you find a wine you like make a note of the name of the producer, the grape variety and the country or region. Use this information on your next shopping trip and buy the same grape variety but maybe from a different country or buy a wine from the same producer but a different grape variety – this will help reduce the risk of buying a bad wine.
6. Take advantage of technology. There is a plethora of wine apps out there all designed to help you find good wine. Vivino is the biggest and probably one of the best and is very user-friendly.
7. Ask somebody. Or do it the old-fashioned way and speak to a human-being. National retailers like Majestic Wine and independent wine shops always have people on hand willing to help and give you advice.
8. Do a wine course. A little bit of wine knowledge goes a long way to help you choose good wines. If you know what you like and why it's so much easier to make more informed choices and leave the shop with a wine you will enjoy. Courses like The Local Wine School Network's Evening Introduction to Wine Tasting have helped thousands of people to choose good wine.