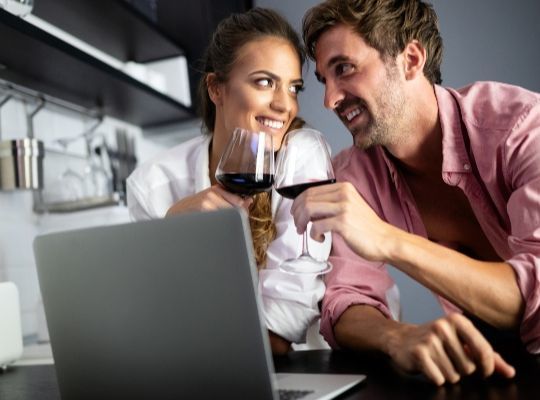 Posted on
I've hosted quite a few online wine tastings and it's been great to see how easily guests have adapted to them. The convenience of tasting wine at home is obvious with no need for babysitters and no need to travel. Generally, I've found that people relax into them very easily and that the conversation flows. In fact, guests always seem to be much less inhibited when tasting wine at home. Of course, the obvious difference is the tech but after over a year of lockdown and working from home most people are fairly Zoom-savvy. But some of the questions around tasting etiquette – mainly around tasting measures and whether to sip or spit – are the same online as they are in the 'real-word'. So, here are my four top tips on how to sail through an online wine tasting with ease:
1. Be Prepared
Look out for the e-mail a few days before the tasting with information on how to prepare the wines, including which wines need chilling and for how long, as well as nibbles to pair with the wines. Prepare them in advance and have them within arms-reach. This will save any last-minute dashing to the fridge and avoid any friendly ribbing from other guests who are relaxed and ready to go.
2. Sip or spit?
Well, this is the perennial wine tasting question. There's a reason why I recommend spitting – to assess how long the nice flavours of a wine last in the mouth which is an indication of the quality of the wine. So, the etiquette is to spit, and I suggest you give it a go to maximise your experience. But then it's absolutely fine to take another few sips, this is after all about enjoying yourself!
3. Pace yourself
So, this is the biggest difference between tasting online vs a tasting in the real world. In a face-to-face tasting, the wine is poured for you but online you are in control of your own tasting measures. Of course, I want everybody to have a great time and enjoy the wines but a camera being turned off is a dead giveaway that a guest may have peaked too early! A feature of most online wine tastings is the Zoom 'after-party' so make sure you keep plenty of wine back to enjoy with your colleagues and friends.
4. Master the art of muting!
Have you ever been in a Zoom and been talking but nobody can hear you? Or been having a private conversation that wasn't so private? In larger groups you should assume that the host will have muted everybody – I always let guests know – so you'll need to unmute to ask a question. But be careful, after a little bit of wine you may not be quite as sharp as you are on a work Zoom so there's always a danger, you'll share more than you intended to!
Follow these simple steps and you'll avoid any mishaps meaning you can sit back, relax and enjoy your online wine tasting.