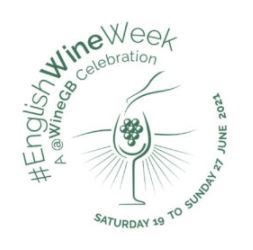 Posted on
For those of you that know me you'll know that I have a particular affection for Italian wine – it's the diverse range of wines made from eclectic sounding grape varieties that seduces me, there's always something new to try.
However, I have to admit, my head has been turned by English Wine. And it's not just me. We're all buying more locally produced food and drink than ever before and 2021 is the year of the staycation which has created a mini boom in local wine tourism. There's never been more interest in English wine with all major retailers reporting a huge surge in sales.
So, I'll be raising a glass to celebrate English Wine Week which runs from 19th-27th June. The most obvious way you can join in is by taking a tour of a local vineyard. There's nothing more pleasurable than sipping a delicious glass of chilled wine on a vineyard terrace or in a garden surrounded by the vines on which the grapes are grown. Most local vineyards are running tastings and tours; although to avoid disappointment I suggest you ring ahead or check vineyard websites as you will need to book. If you can't get to visit a vineyard then I have a few places left on my English Wine Week local wine tasting on 24th June.
If you manage to get on a vineyard tour you'll find grapes grown by entrepreneurial farmers turned grape-growers and superb quality still & sparkling wines made by talented winemakers from all walks of life and all around the world. Vineyard and winery facilities are state of the art. On a recent visit to one of our local vineyards I was hugely impressed by the use of modern laser-guided grape-growing technology mixed with traditional English craftmanship.
So, what about the wines? Well, Bacchus is England's answer to Sauvignon Blanc and this cool-climate grape flourishes in Norfolk's relatively warm, dry climate. It makes dry, aromatic wines with refreshing acidity; delicious when paired with local seafood or goat's cheese. Winbirri Vineyard's Bacchus is still consistently one of the best examples.
Solaris is another white grape variety to look out for; the best examples I've tasted are medium bodied and well textured with a creamy lemon-curd filled palate. I particularly like the Solaris made by Burn Valley Vineyard; it has been barrel-fermented which gives the wine extra weight and richness.
You'll find great Rose wines made in Norfolk too. Made with the black Regent grape, Chet Valley Vineyard's Redwing Rose is brimming with plush red fruit flavours and is fantastic with a plate of locally cured meats.
For me through, the recent revelation has been in red wines. If you love an oak aged Rioja then try Winbirri Vineyard's Signature Red. Made with the Dornfelder grape it's aged for eighteen months in American oak barrels. It's full-bodied and complex with loads of toasty oak flavour. At the other end of the style-scale I've still got a soft spot for Flint Vineyard's Pinot Noir Précoce, a juicy, medium-bodied silky-smooth wine that drinks superbly when it's very lightly chilled.
So, take a moment during English Week to join in the celebrations and explore the fantastic range of wines available from the vineyards on our doorstep. Cheers!