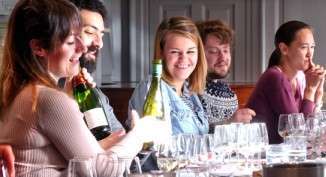 As seen on

Event Description
Do you enjoy wine and would like to know more?
Our Saturday Wine Course is a fascinating introduction to the world of wine. Over the course of the day enjoy a tutored tasting of 12 wines, including Champagne and learn what makes them so different. The day includes a delicious two course lunch prepared by the award winning Blackfriars restaurant.
Course Outline:
· Learn how to taste like a professional.
· Improve your senses! – Using "Nez du Vin" learn how to identify and describe wine aromas.
· Recognise the elements of wine - tannin, acidity, oak
· Introduction to the World's major wine regions
· New World Wines (Australia, New Zealand, Chile, Argentina, South Africa, California) vs Old World Classics (France, Italy, & Spain)
· Major Red Grape Varieties – Shiraz, Cabernet, Merlot, Pinot Noir, Sangiovese, Tempranillo and others.
· Major White Grape Varieties – Sauvignon Blanc, Chardonnay, Riesling and others.
· The effect of climate on the taste of wine
· How wine is made - grapes, fermentation, ageing.
· Which wines to buy / where to obtain the best value for money / storing and serving wine / understanding wine labels
· Food and Wine Matching – tips and advice
This is a great opportunity to meet like-minded people, taste world-class wines and enjoy a delicious two course lunch.
Local Wine Schools in the Press

'The best wine courses and classes in the UK'
Daily Telegraph

'Londons loveliest wine tasting classes'
Time Out Magazine