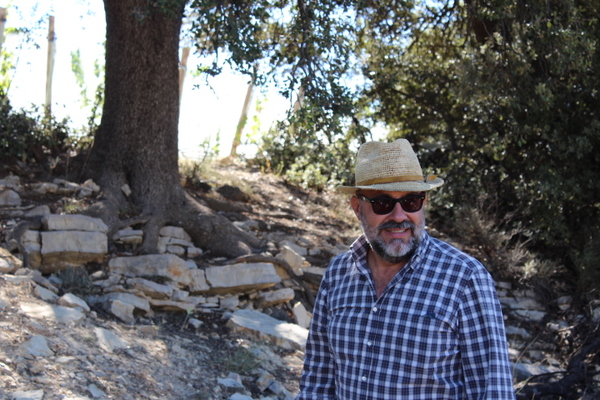 Posted on
After one too many Christmas drinks in 2011 an architect, his physicist wife, her economist brother and an historian friend had an idea. Despite no previous wine making experience they would plant mainland Europe's highest vineyard on a barren Spanish hillside never before cultivated.
With a commitment to their natural environment this unlikely team is now producing high quality mountain wines in a tiny sustainable winery and planning a new tourism project in the isolated pueblo of Inazares where Murcia meets Andalucía and La Mancha.
Jose Alonso discovered this corner of Spain on a weekend hunting trip. "The first morning I opened the windows on the valley I knew immediately I wanted to make this place my home."
Architect Jose welcomes me to his property. A modest log cabin on a hillside of parched, rocky, yellow earth, dotted with scraps of vegetation.
On a sunny morning the persistent breeze reminds us that we are at an altitude where the climate is continental in its extremes. Jose tells me, "come the autumn this breeze can reach a gale force strong enough to push sheds around the yard, winter snow is a regular occurrence, spring brings hailstones (granizos) the size of apples and by summer we are rationing water."
"I first planted a single row of vines curious to see if they would grow. When they did I decided to experiment further and the project was born; to make quality wines that reflect this unique environment."
Respect for nature guides Jose. Sheep roam the vineyards nibbling on sparse grass and transporting natural spores, bees live in hives scattered through the vineyard and bats feed on harmful insects.
Not all wildlife is encouraged. Jose smiles, "fences had to be erected to deter the wild boars that feast at harvest time and the nets that protect the vines from hail also offer protection to small birds that gorge on grapes safe from buzzards.
Commitment to sustainability is reflected in the winery constructed out of used shipping containers, clad in timber and with a grass covered roof. "The design is inspired by the use of space in a submarine" Jose tells me.
We are joined by Jose's family for a wine tasting on the front porch. The voice of Billie Holliday drifting from the stereo in the room behind. Jose laughs off my suggestion that he must be a little "loco" to have a vision to craft wines on barren ground at almost 1400m in southern Spain. He explains his plans for the future, "we are working with the village to provide accommodation to encourage wine tourism. I believe that in a post COVID world visitors will seek a slower, less crowded, more natural experience."
I decline the generous offer to stay for lunch and while away a lazy Sunday sampling wine. I leave inspired; by Jose, his vision, his passion and his deep love for this remote place.