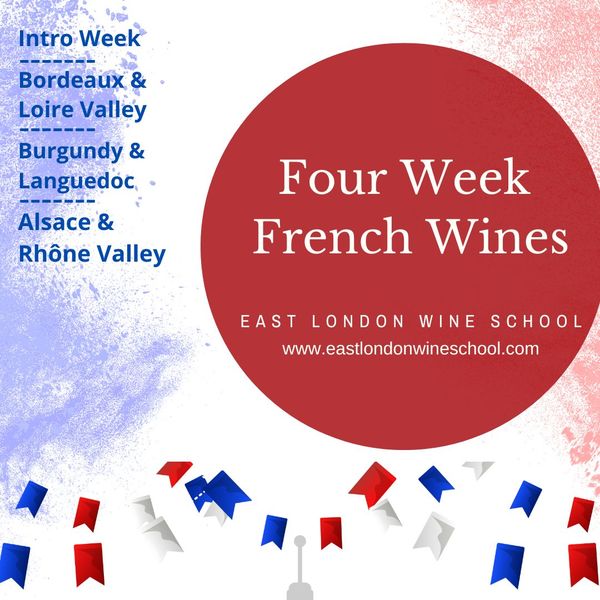 Course Description
A brilliant course for anyone wanting to get to grips with the French Wine Regions.
Week 1 - kicking off with an Introduction to Wine Tasting - how to taste like a pro, what the buzz words mean; legs, tears, body, tannin, acidity and answering any of your questions. Learn the wine jargon and speak more confidently about wine.
Week 2 - heading to Bordeaux and the Loire Valley. Bordeaux famed for red wines of Medoc and St Emilion. Then the Loire Valley famed for Vouvray, Sancerre, Chinon, to name a few. Shame we only have time for 6 wines. We could spend a whole week here.
Week 3 - off to Burgundy and the South of France. The South, often gets overlooked, but this is where you'll find the innovators; less rules and regulations so more freedom for the wine makers. Then to Burgundy, where the most expensive wine ever sold was from. Sadly we couldn't afford that one, but we do have some delicious examples for you to taste.
Week 4 - brings our 4 week tour to a close and heading to the delicious, wines of Alsace, a unique French wine region, find out why. Then to the Rhone Valley, where we'll be tasting some big reds and helping you find the style you love and not have to pay a small fortune!
WHAT IF I HAVE TO MISS AN EVENING?
Not a problem, just give us 7 days notice and we can reschedule the event for you
Including...
Introduction to French Wines - April 2024
The Chamberlain Hotel
7:00pm
An Introduction to France through a glass! Undoubtedly one of the most famous wine countries in the World. We'll help you get to grips with Chateaus, Crus, Appellations, and more. No experience required, come and meet like minded people.
Bordeaux and the Loire Valley - April 2024
The Chamberlain Hotel
7:00pm
Wines from Bordeaux are known and drunk all over the world! Their famous signature blends are copied by some of the best wine makers. We're also exploring the Loire Valley in this tasting, home to some big names like Sancerre and Vouvray!
Burgundy and South of France - April 2024
The Chamberlain Hotel
7:00pm
Wines from Burgundy, are the most expensive in the world, wines that films are made about. Not only tasting these majestic wines, also the wines from the most innovative region of the South.
Champagne, Alsace and The Rhone Valley - April 2024
The Chamberlain Hotel
7:00pm
Champagne, then wines from Alsace are aromatic and so delicious, a unique part of France (find out why) mainly white wines, then we're headed over the the Rhone Valley - home to Chateau Neuf Du Pape...one of the big hitters of the red wine world...