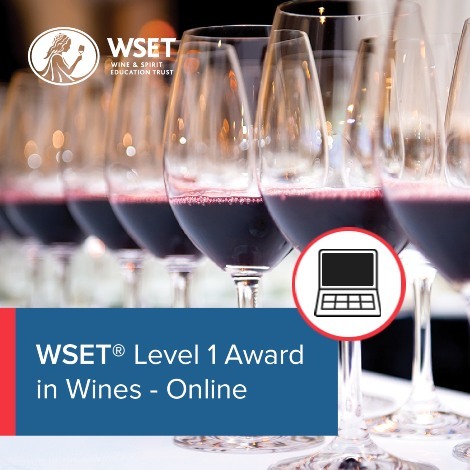 Event Description
This course is designed for people who prefer to learn in a fun, but structured way finishing with a short multiple-choice exam.
3 x Live online Zoom classes - Wednesdays 11th, 18th & 25th September from 7pm to 9pm
Level 1 is very suitable for
those interested in learning the basics out of personal interest
AND
anyone considering embarking on a professional career in the drinks or hospitality industry
What the course covers
The main types and styles of wine
Common wine grapes and their characteristics
How to pair food and wine
How to store and serve wine
How to taste wine using the WSET Systematic Approach to Tasting SAT
basic skills and product knowledge required for the service and retail of wine
The WSET Level 1 Award in Wines has full accreditation from OfQual as a Level 1 Vocational Qualification.
We recommend you read the course specification document before you book the course (read it by clicking here).
Course delivery
The Level 1 Award in Wines online course covers the same syllabus as the classroom course and is delivered in LIVE virtual lessons by one of our certified wine educators
This course includes 6 hours online tuition in 3 x 2hr sessions
Your tutor will give you a guided tasting of 6 wines on this course (for details of how to order the wines see below)
You will receive access to practice multiple-choice revision questions specific to this course
You will be sent details of how to join your LIVE sessions after you book
Please note a reliable broadband connection is essential for the completion of this online course as are basic computer skills.
Examination
To obtain the WSET Level 1 Award in Wines qualification, you will need to successfully pass the exam. The exam is made up of 30 multiple-choice questions to be completed in 45 minutes. You must answer at least 70% correctly to pass the exam.
The exam may be taken at Brimingham Wine School in class, dates to be agreed, or we can offer an online exam for an additional £39 CLICK HERE to book.
Important dates
Registration deadline: Please try to book at least 5 days before the start date, to allow time to send materials and order tasting wines.
The course fee includes
Course study guide posted to you at no extra charge
LIVE virtual, interactive sessions taught by a Local Wine School WSET Certified Tutor
Exclusive access to practice multiple-choice questions
Internationally recognised WSET qualification certificate and pin for those who pass the exam
Course Wines
It is recommended that 6 wines are tasted as part of this course, although this is optional and not essential to complete the course. Please note that the cost of wine is not included in the course fee above.
Our wine experts have specially selected wines for this course aligned to demonstrate specific learning outcomes. They have even negotiated a specially discounted price only available to our online students.
The price of the 6-bottle case is £67 including delivery to mainland UK. Details of how to order your case of wines will be provided around 10 days prior to your course starting.
Wine preservation advice is given so that after each tasting exercise you can reseal and return to the wines over the coming days.
Special Educational Needs
Please make the school aware if you have a condition that may mean that you will qualify for additional help during the exam such as dyslexia.
How to get there
This event is online only.
Local Wine Schools in the Press

'The best wine courses and classes in the UK'
Daily Telegraph

'Londons loveliest wine tasting classes'
Time Out Magazine