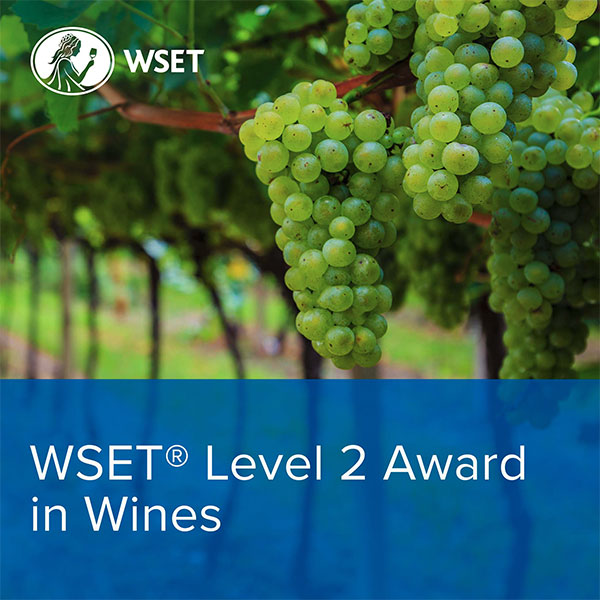 As seen on

Event Description
Run over 3 days, Monday to Wednesday with the exam at the end of the final session.
This exciting and structured course is the Wine and Spirit Education Trust (WSET) Level 2 Award in Wines and is intended as vocational training in product knowledge for those employed in the drinks industry who have little previous knowledge of wine. The course is also increasingly popular amongst enthusiasts who have a serious interest in wine, and wish to broaden their knowledge in a structured way by gaining this internationally recognised qualification. WSET Level 2 Award in Wines has full accreditation from OfQual as part of the UK Government's Qualifications & Credits Framework as a Level 2 Vocational Qualification.
Please Note: the deadline for booking your place on this course is 2 weeks before the course starts. This is to ensure all students receive their study materials in advance of the start of the course, with time to familiarise themselves with the course specification. Anyone wishing to book any later than this deadline should contact the Wine School before booking to ensure that provision can be made.

Course Outline
This course runs for 7 hours a day, over 3 consecutive days.
The exam will take place during the final session on the final day, and lasts for 1 hour.
In addition to the 16 hours of teaching time, students are expected to complete around 12 hours of private study in their own time
A link to the Course Specification will be sent to you before the course, but can also be viewed here if you wish to review it before booking
What's included in the Course Fee?
- All WSET course materials including; Looking Behind the Label course manual, Study Guide and Tasting Card
- All tasting wine (approx 30-35 wines)
- All course handouts
- All course tuition
- Examination Paper
- Official Certificate and pin for all those who pass
- Study Materials (Full study pack)
Special Educational Needs: please make the School aware as early as possible if you have a condition which may mean that you will qualify for additional help during the exam such as dyslexia.
A VAT receipt can be supplied if required
Local Wine Schools in the Press

'The best wine courses and classes in the UK'
Daily Telegraph

'Londons loveliest wine tasting classes'
Time Out Magazine