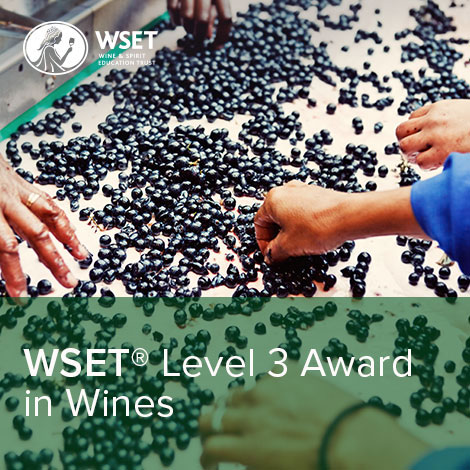 Duration
1 week (Mon-Fri)
As seen on

Event Description
Five consecutive days (Monday to Friday) in one week - Exam approx one month later
This well-structured and in-depth Level 3 certificate is designed for anyone wishing to gain comprehensive knowledge of wines and build upon the knowledge gained at Level 2. You will acquire a thorough understanding of the factors influencing the style, quality and price of wines from key wine producing regions of the world. You will also develop analytical tasting skills using the systematic approach to tasting as tasting will be part of the examinations. This qualification has full accreditation from the UK Government's Qualifications & Curriculum Authority as a Level 3 Vocational Qualification and provides the knowledge required for those wishing to progress on to the Diploma Level 4.
If you are an employer wishing to train your staff this course will equip them with knowledge and understanding of a wide range of products. This course is suitable for someone in a supervisory level position in wine sales and service.
KEY DETAILS:
The term 'intensive' is due to the shorter nature of the course (over consecutive five days) - the amount of content is exactly the same as a normal Sunday course.
Please be aware that this is a very in-depth course compressed into a shorter time-frame. This course is ideally for those that have studied the book beforehand and/or have wine industry experience.
Registration closes for this course 2 weeks before the start date (if you do wish to register after this date you will be required to pay a late fee of £30 - please email edinburgh@localwineschool.com to see if we can register you)
For the condensed course we will post your study pack to you in advance. Please note that postage can take up to 10 working days. Please let us know the best address for your study pack to be sent too.
L3 INTENSE COURSES - WHO ARE THEY FOR?
We run the condensed course for those who wish to obtain the Level 3 award in a quick turnaround, ideally for those who have a sound understanding of wine or those that passed the Level 2 Award with Merit/Distinction.
The sessions run for 7.5 hours, starting at 10am and finishing at around 5:15pm for five consecutive days (Monday to Friday)
We then have a 5 week break for home study before the examination
COURSE OUTLINE
Day 1 - Introduction to Tasting, Viticulture, Vinification and White Wines of Alsace/Germany/Austria/Tokaji
Day 2 - White Wines of Burgundy/Loire/Bordeaux and Red/Rose of Loire/Bordeaux/SW France and Red Wines of Burgundy/Beaujolais, Red/Whites of N Rhone
Day 3- Red/Rose Wines of S Rhone/S France, Red Wines of Med Spain, White Wines of Spain/Portugal
Day 4 - Red Wines of N Spain, Red/White Wines of N Italy and Wines of C/S Italy/Portugal/Greece
Day 5 - Premium Red/White Wines of New World and Regional Specialities of the New World, Sparkling Wines, Fortified Wines
Exam Day - This is around one month after the course-this will be confirmed before the course starts.
WHAT'S INCLUDED IN THE COURSE FEE?
All WSET course materials including; Course manual, Study Guide, Specification book and Tasting Card
Use of ISO professional tasting glasses
All tasting wine (approx 80 wines)
All course handouts (we have a comprehensive database of past exam papers/practice questions)
All course tuition
Examination Papers (Theory Multiple Choice & Written plus Tasting Paper)
Special Educational Needs: Please make the School aware if you have a condition which may mean that you will qualify for additional help during the exam such as dyslexia.
Local Wine Schools in the Press

'The best wine courses and classes in the UK'
Daily Telegraph

'Londons loveliest wine tasting classes'
Time Out Magazine