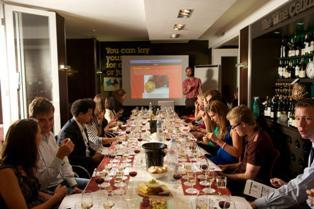 As seen on

Event Description
Our Introduction to Wine Saturdays are one of the most popular beginners tastings we run. Our French exploration edition focuses entirely on the wines of France, expect the classics alongside a few unexpected gems. Kick back, relax and enjoy the ambience as we spend the whole day tasting, learning about and enjoying our fantastic selection of wines...
Starting with an overview of the winemaking story, you'll quickly get to grips with the role of grape variety, climate, wine making techniques and even soil types. We'll show you how to swirl, sniff and slurp like the pros and you'll be introduced to wide range of different French wine styles. By the end of the day you'll know your Claret from your Beaujolais and be able to tell your friends the story of how Champagne is made.
Learn how to decipher French wine labelling terminology, how to select wines to suit your taste, how much to spend on a bottle of wine and how to squeeze more enjoyment out of every drop!
Your Saturday Tasting:
-11 am - 4 pm
-12 wines tasted incl Champagne
-6 white wines before lunch, 6 red wines after lunch
-2-course lunch
-fun and friendly atmosphere
-cover all the basics of both winemaking theory and wine tasting practical
-our most popular tasting to give as a gift
Please inform us of any dietary requirements for lunch a minimum of 10 days before the tasting. Simply send an email to edinburgh@localwineschool.com with your requirements and we'll take care of the rest!
Local Wine Schools in the Press

'The best wine courses and classes in the UK'
Daily Telegraph

'Londons loveliest wine tasting classes'
Time Out Magazine