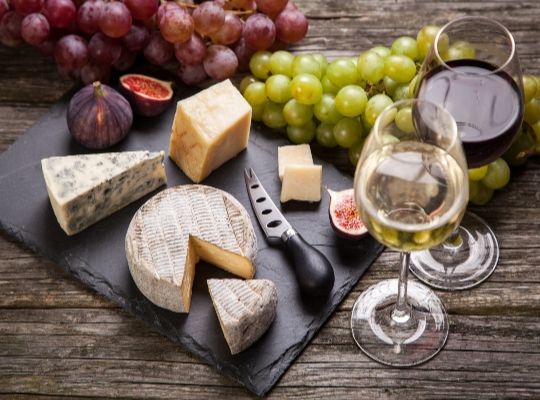 As seen on

Event Description
Forget the wheel, forget electricity, Cheese and Wine are unquestionably two of the greatest things ever created by man! And France produces some of the finest examples of both. Tonight we'll be exploring many of the classic cheese and wine pairings that the home of gastonomy has to offer.
From Ossau-Iraty to Roquefort, creamy Camembert to nutty Comte, there is a huge diversity of delicious French cheeses that match perfectly to the local wines, arguably the best in the world. As well as tasting the delicious combinations, we'll also talk about food and wine matching more generally, and you'll pick up some really good tips to take away and practice at home, and we'll learn all about the grape varieties and wine regions of France as we go.
We'll try 7 different cheese and wine combinations, and while they will vary a bit from tasting to tasting, will include at least some of the following:
Chavignon Goats' Cheese with Sancerre
Roquefort and Sauternes
Epoisses with White Burgundy
Mont d'Or and Chateauneuf-du-Pape
Camembert with Chablis
Emmental de Savoie and Champagne
Reblochon with Bordeaux
This course is a must for all you foodies!
Please let us know of any dietary considerations at the time of booking. We are able to make this suitable for those following a gluten free diet.
Local Wine Schools in the Press

'The best wine courses and classes in the UK'
Daily Telegraph

'Londons loveliest wine tasting classes'
Time Out Magazine