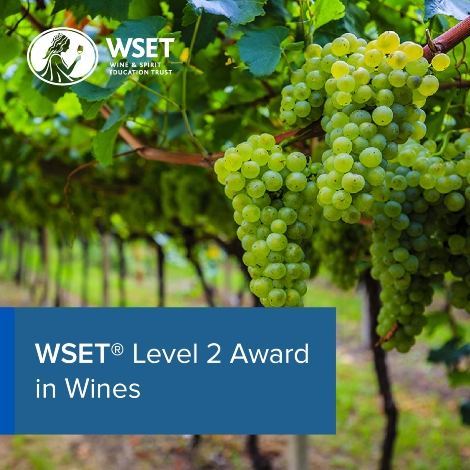 Event Description
This beginner to intermediate qualification course provides a structured exploration of the world of wine and is suitable for both wine enthusiasts and aspiring wine and hospitality professionals.
This course runs over 3 Sundays or 3 Saturdays 10am-5pm in central Cambridge (see dates below).
You will gain knowledge of the principal and regionally important grape varieties of the world and the styles of wine they produce. Through a combination of tasting and theory, you will explore all the factors that impact style and quality and learn how to describe wines with confidence.
You do not have to first complete Level 1 - you can jump in straight at this level (Level 2) if you like.
Course dates
3 x Sunday sessions running 10am-5pm.
for the Saturday Jan/Feb course:
Sat 13th Jan, Sat 20th Jan (ONE WEEK GAP) then Sat 3rd Feb
The final day includes the multiple-choice exam. If a problem arises and you think you cannot attend on that date there is an option to take it online at home (£35 fee for remote invigilation) or you can wait until our next occasion.
We recommend a minimum of 14 hours of additional home study
What the course covers
16 hours of tuition covering:
how to describe different wines with confidence using the WSET Level 2 Systematic Approach to Tasting Wine®(SAT)
How environmental factors, grape-growing, winemaking and maturation options influence the style and quality of wines made from eight principal grape varieties:
- Chardonnay
- Pinot Grigio/Gris
- Sauvignon Blanc
- Riesling
- Cabernet Sauvignon
- Merlot
- Pinot Noir
- Syrah/Shiraz
The style and quality of wines from around the world:
- made from 22 regionally important grape varieties
- produced in over 70 geographical indications (GIs)
Sparkling wines
Fortified wines

Key labelling terms used to indicate origin, style and quality

Principles and processes involved in the storage and service of wines
Principles of food and wine pairing
The WSET Level 2 Award in Wines has full accreditation from OfQual as a Level 2 Vocational Qualification.
We recommend you read the course specification document before you book the course (read it by clicking here).
Examination
The exam is made up of 50 multiple-choice questions to be completed in 60 minutes. A mark of 55% is required to pass the exam, 70% to pass with merit and 85% to pass with distinction.
You will also be given practice multiple-choice revision questions during the course.
Course fee includes
All WSET course materials: Looking Behind the Label course manual, Workbook and study guide, SAT Tasting Card
More than 40 wine samples with fully tutored tasting to develop your assessment skills
Sessions taught by WSET Certified Tutor
Practice multiple-choice questions
Internationally recognised WSET qualification, certificate and pin for those who pass the exam
Special Educational Needs
Please make the school aware if you have a condition qualifying you for additional help during the exam (such as dyslexia).
Local Wine Schools in the Press

'The best wine courses and classes in the UK'
Daily Telegraph

'Londons loveliest wine tasting classes'
Time Out Magazine