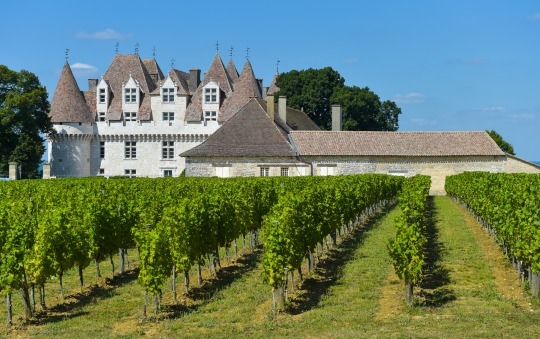 In 2023 we will run two fully-inclusive long weekend trips to Bordeaux (Thursday to Sunday).
We have found a stunning accommodation for our groups at Chateau La Mespoule and everyone who joined our first trip last year had a fantastic time staying there.
We take a maximum of 12 people, which keeps group size manageable and means we are welcome at the Chateaux we want to visit (not the places that will accept large tour buses). Since the group size is small, we advise you to get in touch with us quickly if you are interested before the tours fill up.
You pay for your own flights to Bergerac airport (or may prefer to drive), but everything else is included - airport pickup, accommodation, all meals, all drinks, wine tastings and tuition, vineyard visits and local transport.
We stay in the privately owned Chateau La Mespoule, which boasts 8 beautiful ensuite bedrooms. The property enjoys a picturesque lake you can swim in, an indoor swimming pool, a sauna, tennis courts, a gym and a billiard room.
Included is:
3 nights of accommodation in a beautiful ensuite bedroom in stunning Chateau La Mespoule
Breakfast each day
Lunch every day either at a local restaurant, wine estate or La Mespoule (wine included)
Tasting tutorial every evening
Dinner every day either at a local restaurant or La Mespoule (wine included)
Pickup and return from Bergerac airport
All transportation to vineyards (at least 4 visits, including to a Saint Emilion Grand Cru Classé estate)
All tours and tastings at the wine estates
Full use of facilities at Chateau la Mespoule
Price: 1500 euros per person (roughly £1250) sharing a double or twin room. You can reserve your places with just a £200 deposit per person.
Dates: We will be going twice in 2023
Thurs 11th May to Sun 14th May
OR
Thurs Sep 28th to Sun Oct 1st
To find out more or to reserve your space, please send an email to info@cambridgeshirewineschool.com to request further information and/or a booking form.
Payment will be made to Evenements de Mespoule SAS in accordance with the conditions on their booking form.
Please Note: Cambridgeshire Wine School is acting as an agent for Evenements de Mespoule SAS. The contract for the tour is between you and Evenements de Mespoule SAS.
Local Wine Schools in the Press

'The best wine courses and classes in the UK'
Daily Telegraph

'Londons loveliest wine tasting classes'
Time Out Magazine