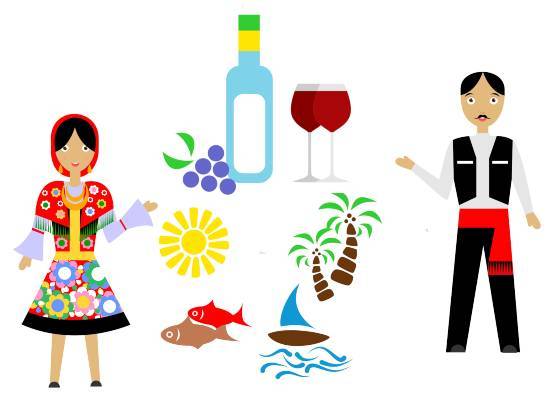 Course Description
When Portugal joined the EU in 1986, the event was a catalyst for change. The near-monopoly imposed on (most) parts of the wine trade by cooperatives was removed and the way was open for improvement and innovation - from that point, we started to notice more quality Portuguese wines on our shelves.
Join us for 5x Wednesday evenings online to explore new things emerging in the Portuguese wine scene
(This online course runs every Weds evening for 5 weeks and the price is for TWO people connecting on one video stream. If you want ONE place, please use the code PTONE to reduce the price to £80).
Vinho Verde is now having its moment in the sun as naturally lower alcohol wine with excellent fruit quality finds its appeal.
The amazing Douro Valley has added a host of dry wines to the range it now offers alongside historic Port.
The Dao region has always made fresher and more vibrant wines, and now at better quality. Discover distinctive grapes such as Encruzado and Alfrocheiro.
Meanwhile, Alentejo has been discovering new terroirs that previously went unnoticed among the rolling sun-baked hills.
We'll finish by celebrating the heritage of Port finding new uses for white Port, sampling an excellent 20-year-old Tawny and experiencing a 1999 'second' Vintage Port (offering fabulous value for money).
James Thorne has put together a 15-bottle case of delicious wines at an exclusive 15% discount with free delivery in sustainable, recyclable packaging. The discount saves you £39.80 (the normal price is £265.35, you pay just £225.55).
HOW IT WORKS
You buy the wines separately and we'll try 3 wines each session. You need only consume a tasting sample of each wine during the tutorial and you can follow our preservation tips to keep any leftovers for another day.
To book ONE space please use the code 'AUSONE' at checkout, which reduces the price to £80 for one. (For three or more people using one video feed there is no additional charge beyond the price for two).
After you book your spaces, we'll send a link for ordering the wines. We will also send instructions for joining Zoom calls from a desktop, laptop, tablet or mobile phone. Zoom is proving to be a very sociable medium for wine tasting, so we can guarantee you'll have fun! Each session will last just over an hour.
OR the best value way to access our online tastings is by joining our monthly subscription club (20% discount). This gives you the best value access to our weekly classes and if you need to skip sessions we give you credits (use them to pay for other events, give free spaces to friends or arrange a private party we can host for you).
Click here to read more about our Wednesday Wine Club membership programme (just £50/month for one, £80/month for two).
The Wines (in serving order):
15 Sep - Vivid Vinho Verde
Marcio Lopes, Loureiro 2020 Vinho Verde, £13.99
Marcio Lopes, Ancestral 2020 Vinho Verde, £20.99
Quintas do Homem, Vale do Homem Vinhão 2018 Vinho Verde, £12.99


22 Sep - Delightful Douro
Lavradores de Feitoria, Cheda Branco 2018 Douro £12.99
Casa Ferreirinha, `Vinha Grande` Douro Rosé 2020 £14.99
Casa Ferreirinha, `Callabriga` Douro Tinto 2018 £21.99


29 Sep - Delicious Dao
Quinta da Mariposa Branco 2019 Dão £13.99
Quinta da Mariposa Encruzado 2017 Dão £19.99
Álvaro Castro, Outeiro 2016 Dão £14.49


06 Oct - Alentejo Ascending
Jose Maria da Fonseca, Montado Tinto 2017 Alentejo £9.99
Cartuxa, Foral de Évora Branco 2019 Alentejo £18.99
Cartuxa, Foral de Évora Tinto 2018 Alentejo £18.99


20 Oct - How to Enjoy Port
Quinta do Noval, Dry White Port £13.99
Sandeman, Vau Vintage Port 1999 £27.99
Quinta do Noval, 20yr Tawny 37.5cl £28.99
Special case price £225.55 (normal price £265.35, you save 15% or £39.80). You only need to buy one case to share between two people. Delivery is free.
NOTE - cut off for national wine deliveries is Mon 13 Sep.
How to get there
This event is online only.