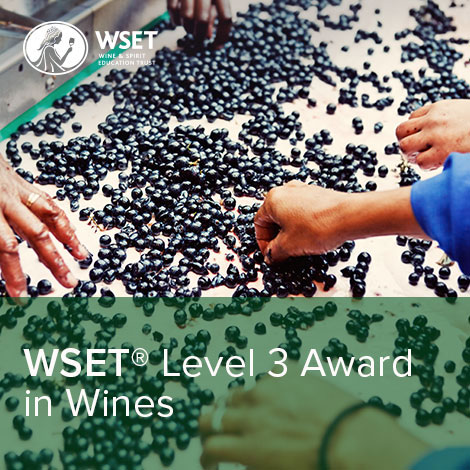 Event Description
WSET Level 3 in Wines Award is an advanced level qualification for professionals working in the wine industry and for wine enthusiasts.
For individuals seeking to delve deeper into the world of wines, this qualification provides a detailed understanding of grape growing and wine making. Upon completion you will be able to assess wines accurately, and use your understanding to confidently explain wine style and quality.
Upon successful completion you will receive a WSET certificate and lapel pin, and will be able to use the associated WSET certified logo.
These are ideal for trade professionals and wine enthusiasts.
What you'll learn
Unit 1
The key factors in the production of wine: location, grape growing, winemaking, maturation and bottling
How these key factors influence the key characteristics of the principal still wines of the world, sparkling wines of the world and fortified wines of the world
How to apply your understanding to explain wine style and quality
Unit 2
How to taste wines, describe their characteristics and evaluate their quality, using the WSET Level 3 Systematic Approach to Tasting Wine® (SAT)If you are an employer wishing to train your staff this course will equip them with knowledge and understanding of a wide range of products.
Assessment
Unit 1 is assessed by a closed-book exam of 50 multiple-choice questions and a paper of short written answers. Unit 2 is assessed by a blind tasting of two wines.
This qualification is regulated by Ofqual
Entry requirement
It is recommended that you hold the WSET Level 2 Award in Wines and Spirits or can demonstrate the equivalent level of knowledge. This course is suitable for someone in a supervisory level position in wine sales and service.
Not sure exactly what is covered in the Level 3 in Wines Course? Click here to view the full Level 3 Course Specification (with Example Questions)
Classroom Sessions
There are three x two hour classroom sessions each day, starting at 10.30am and finishing at 5:30pm with 45 minutes for lunch
There are 5 full day sessions (30 classroom hours) and an exam session, spread out over 6 weeks. The final exam day is 10:30am - 2pm
WSET recommends at least 54 hours of home study in addition to the 30 hours of classroom sessions.
Course Outline
Day 1. Sessions 1,2,3 - Intro, tasting technique, natural and human factors with grape-growing & human factors with winemaking
Day 2. Sessions 4,5,6 - Whites wines: Germany, Alsace, Austria, Tokaji, Burgundy, Loire, Bordeaux + Red / rose wines: Bordeaux, SW France, Loire
Day 3. Sessions 7,8,9 - Red wines: Burgundy, Wines of Rhone, S France, Spain, Portugal, Northern Italy
Day 4. Sessions 10,11,12 - Central & S Italy, Portuguese reds, Premium New World reds and whites
Day 5. Sessions 13,14,15 - Regional new world wines, Sparkling Wines, Fortified Wines
Day 6. Exam Session
Course tutor: Rob Price
This course is over 5 full days, (Plus exam day).
Tuesdays 9th 16th & 23rd Feb. 2nd & 9th March. The exam will take place on Thursday 11th March at 10:30am.
Venue: 2nd Floor - The Wellington, Bennetts Hill, B2 5SN. Please note: Two flights of stairs needed to be climbed.
(5 minute walk from either New Street or Snowhill)
Local Wine Schools in the Press

'The best wine courses and classes in the UK'
Daily Telegraph

'Londons loveliest wine tasting classes'
Time Out Magazine