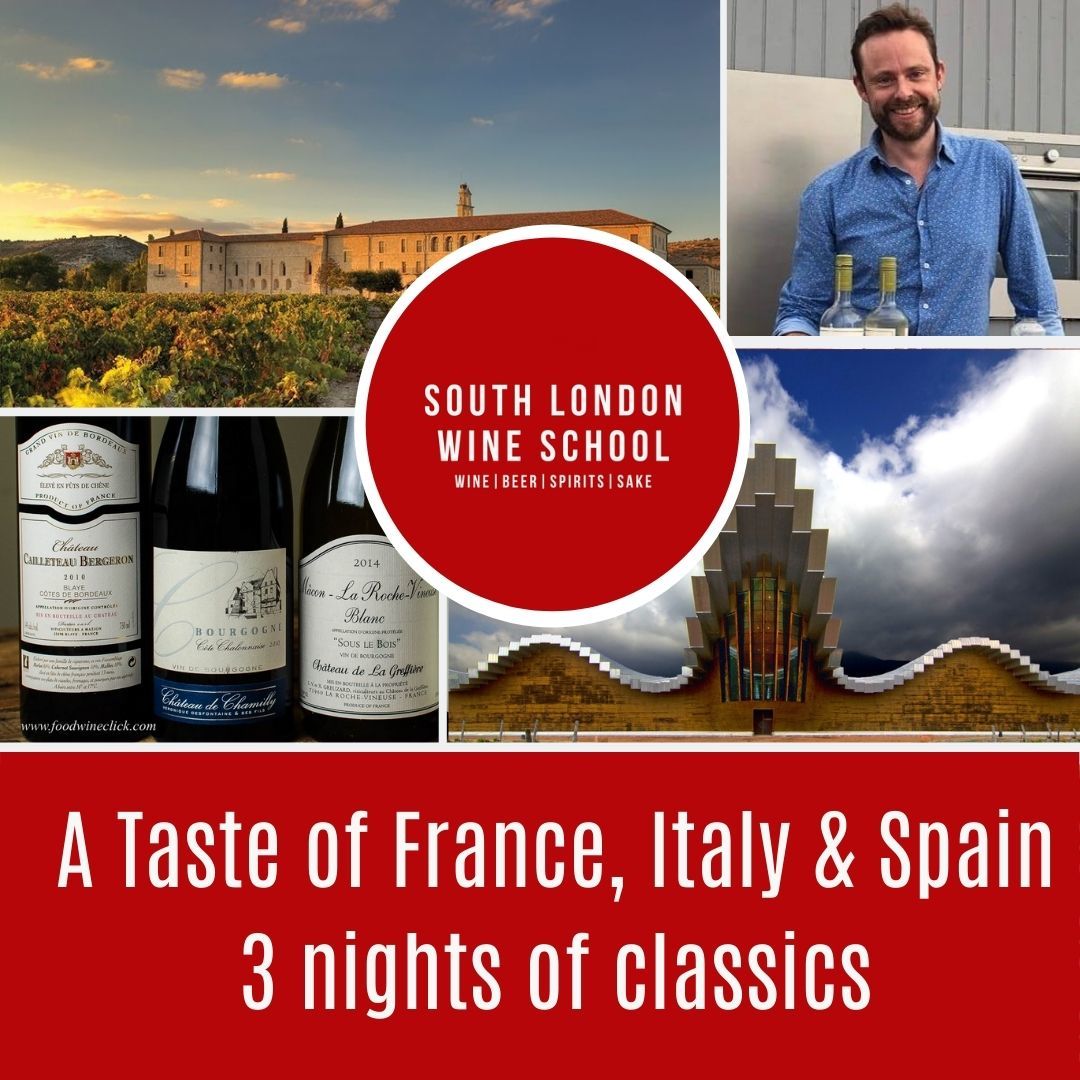 Course Description
A three-week tasting that covers fantastic selections of wines from the top wine-producing countries in the world: France, Italy & Spain.
Join us over three evenings over consecutive weeks to experience the classics.
A Taste of France
From the lean dry white wines of the Central Valleys of the Loire, to the blockbusters of Bordeaux and the refined Pinot Noirs of Burgundy, one evening will cover the classics and introduce you to the wines that make France the home of wine.
We will take you on a whistle-stop tour of the great regions of France. Experience wonderful white wines from Alsace, the Loire Valley and Burgundy. Dive into some engaging reds from the Rhone Valley, Bordeaux and Burgundy with your tutor taking you through each region and wine.
A Taste of Italy
From the great wines of Piemonte, to the classics of Tuscany and the deep reds of Puglia, one evening will allow you to discover the range of fantastic Italian wines and have you thirsty for more.
There's so much more to Italian white wines than Pinot Grigio, so we will be experiencing some crisp but intriguing white wines from Northern Italy as well as Campania in the south. Red wines feature heavily, and many of the world's classics come from Italy. Piemonte is home to the King of Grapes - Nebbiolo and we will be getting to grips with this wonderful wine. Tuscany boasts Chianti and Brunello di Montalcino amongst many others and a taste of Sangiovese is definately on our list. Reds from Valpolicellla, home to Amarone, as well as more rustic pleasures from the south will also be on our list.
A Taste of Spain
From the cool climates of 'Green Spain' giving us bright, crisp whites and lighter, fruity reds to the warm easten Mediterranean coast with richer fruit-driven reds and the classic Sherries of Andalucía. One evening will touch on it all and introduce you to the amazing wines of Spain
There's much more to Spain than the world famous Rioja, so on this course we'll explore some other fantastic wine regions. We'll start in the coller north and try a wine from the Basque Country. We then move slighly south to Castilla y Leon and try red wines from the trendy Bierzo and the quality driven Ribera del Deuero. We move the the Mediterranean Coast and have a mighty red from Monstant from Cataluña and wine from Murcia. We then finish with a wine from the volcanic Canary Islands.