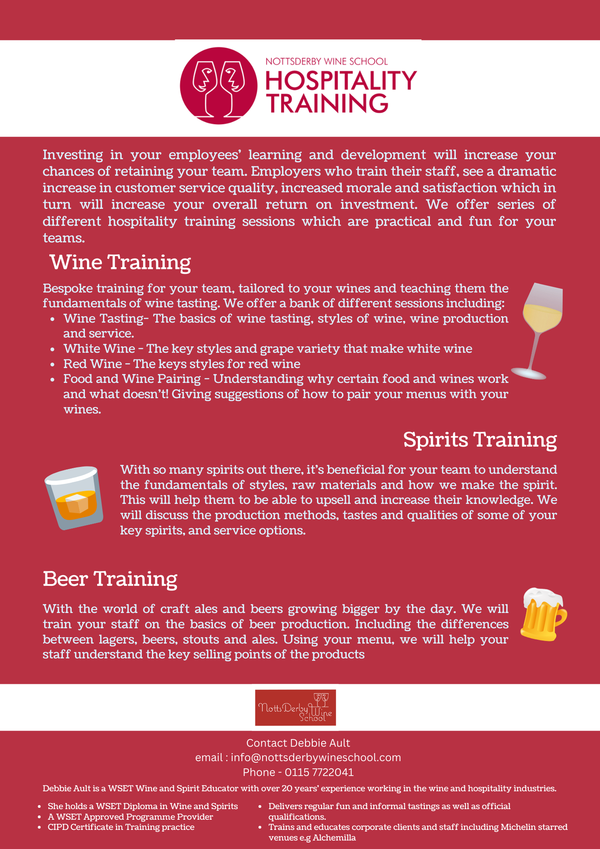 We have created a series of 2 hour training sessions, to help develop confidence and educate your staff in key front of house service and sales.
Introduction To Wine - The basics of wine tasting, styles of wine, wine production and service.
Introduction To Beer - The basics of beers including styles, production and service
Introduction To Spirits - A look into some of the key spirits, their production and style, plus popular service options.
Food and Wine Pairing - Understanding why certain food and wines work and what doesn't! Giving suggestions of how to pair your menus with your wines.
Customer Service and Upselling - Principles and expectations of service within your business. The keys reasons and techniques of upselling to your customer.
Each session is interactive, fun and engaging and will be bespoke to your business We will utilise your drink and food menus as well as focus on your service level requirements.
Training sessions are for up to 8 staff in each session and last approx 2 hours. You can either book individual sessions, to your business needs or receive a discount when booking 3 or more in the series. Training would take place at your venue at a time to suit your business needs and staff availability.
Investing in your employees' learning and development will increase your chances of retaining employees. Employees who train their staff, see a dramatic increase in customer service quality, increased morale and staff satisfaction which in turn will increase your overall return on investment.
Debbie our Trainer has over 30 years experience working in the hospitality industry, she is a Wine and Spirits Education Trust Approved Progam Provider and holds Level 4 Diploma in Wine and Spirits. She has a CIPD Training qualification, is a qualified NVQ assessor and has managed and owned bars and restaurants over her career and understand the importance of staff training and staff retention. Debbie is known for her fun and interactive training sessions which keeps staff engaged and motivated.
For more details and to contact Debbie to discuss further please email
Local Wine Schools in the Press

'The best wine courses and classes in the UK'
Daily Telegraph

'Londons loveliest wine tasting classes'
Time Out Magazine