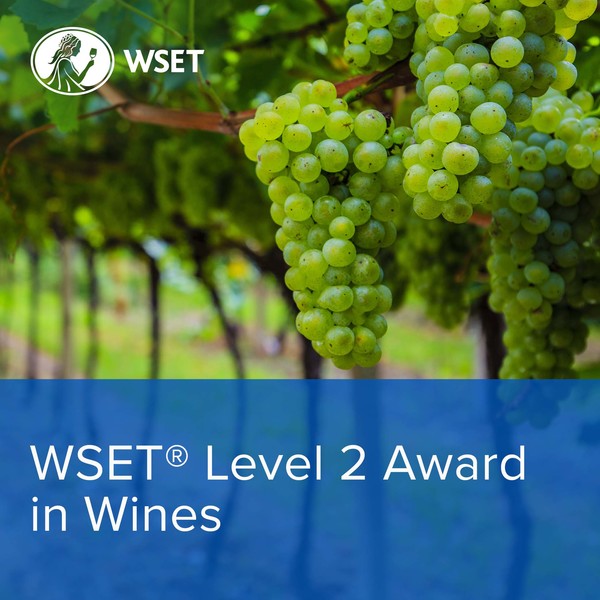 Course Description
This is a 3 day classroom course format of the WSET Level 2 Award in Wines.
This immersive course explores the world's major grape varieties and important wine regions. Through a mixture of tasting and theory sessions you will learn about the factors that influence the style and quality of wine, the basics of wine production, key labelling terminology and important wine classifications.
Who is this course for?
The WSET Level 2 Award in wines course is suitable for anybody who wants to learn about a wide range of wines. For anybody working in the wine or hospitality industry it offers an internationally recognised qualification and the course is also suitable for amateur enthusiasts who want to enhance their enjoyment of wine by learning about it in a structured way. The WSET Level 2 Award in Wines has full accreditation from OfQual as a Level 2 Vocational Qualification. The 3 day course provides a condensed course format for anybody who cannot commit to an 8 week evening course.
No prior wine knowledge is required however the course builds upon the WSET level 1 Award in Wines which may be more suitable for those completely new to wine. Due to the condensed format of the 3-day course you will be expected to have read some of the study book prior to starting the course.
What you will learn:
Wine tasting: You will learn how to taste and describe wines using the WSET Systematic Approach to Tasting (SAT)
Food and wine pairing: You will learn the principles of food and wine pairing
Wine service and storage: You will learn the correct way to store and serve wine and how to recognise common faults found in wine
Labelling: You will learn how to decode and understand wine labels
Factors influencing the Style of Wine: You will explore how environmental factors, grape-growing, vineyard and maturation options influence the style and quality of the wines made all over the world
Grape Varieties: You'll learn learn about the styles of wines produced by the key international red and white grape varieties (Chardonnay, Pinot Grigio, Sauvignon Blanc, Riesling, Cabernet Sauvignon, Pinot Noir, Merlot and Syrah/Shiraz) as well as the styles of wines made with 22 regionally important grape varieties grown in 70 wine regions (GI's) around the world
Sparkling and Fortified wines: You will be taught how grape varieties and winemaking processes influence the style of wines in these two key wine categories
Course delivery:
Number of Wines Tasted: aeound 40 wines will be tasted as part of the course
Study Materials: Students will receive a complete WSET Level 2 Award in Wines course study pack, comprising the course book (a comprehensive guide to the wines of the world 'Behind the Label'), a study guide (complete with maps, example questions and forms for your own tasting notes), course specification and laminated 'Systematic Approach To Tasting' card
Duration of course: 3 full-day classroom sessions including the 1 hour multiple choice examination on the final day
Examination : 50 multiple-choice questions to be answered in 1 hour. A mark of 55% required to pass
Certification: All students who pass will be issued with a certificate suitable for framing and a lapel pin
N.B. In addition to classroom teaching, students are expected to complete around 12 hours of private study in their own time.
A copy of the full course specification can be read here.
Course dates and times:
Sunday 7th May; 9am to 5.30pm
Sunday 14th May 9am to 5pm
Sunday 21st May; 9am to 5pm (including the examination)
The course fee of £495 includes:
All WSET course materials including; Looking Behind the Label course manual, Study Guide, specification and SAT Tasting Card
3 full days in the classroom lead by a WSET certified wine educator
Tasting of around 40 typical wines including Champagne, Port & Sauternes
We will teach you the WSET Level 2 Systematic Approach to Tasting Wine ®
The use of professional ISO tasting glasses
All course handouts
Examination fees, official certificate and pin for all those who pass
Registration for this course is required by Friday 28th April. This is to allow adequate time for us to complete the registration process. In certain circumstances we may be able to accept a late application to the course however this will incurr an administration fee of £25 to cover our administration costs.
Special Educational Needs:
Please make us aware if you have a condition that may mean you qualify for additional help during the exam such as dyslexia.
Including...
WSET Level 2 Award in Wines classroom course
WSET Level 2 Award in Wines classroom course exam
No 8 Thorpe Road