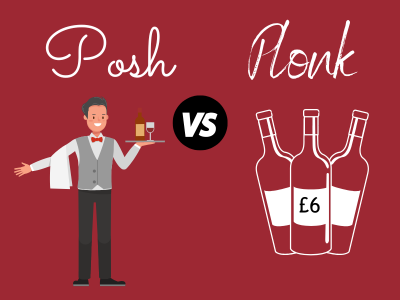 Event Description
How much should I spend on wine? Are more expensive always wines better? Can you really taste the difference between a cheaper and more expensive bottle? These are questions we are asked a lot so we decided it's time to find out!
Join us as we show you how to judge the quality of a wine and work out whether you really do get what you pay for when you buy a wine. We'll explain why you should expect a better quality wine as you spend more.
First we'll taste a wine with you blind and show you how to judge the quality of a wine.
Then we'll taste ten different wines with you 'blind'. We will taste them in pairs - they will both be a similar style or grape variety but one will cost less than a tenner and the other between £10 & £20 a bottle. The 'plonk' we've selected will still be good wine, as we believe you shouldn't have to pay a fortune for good wine, but will you be able to tell the difference between it and the more expensive wine? Most importantly which will you prefer - the 'posh' or the 'plonk'?
All good wine deserves good nibbles so some premium nibbles will be served alongside one of the wines.
Local Wine Schools in the Press

'The best wine courses and classes in the UK'
Daily Telegraph

'Londons loveliest wine tasting classes'
Time Out Magazine