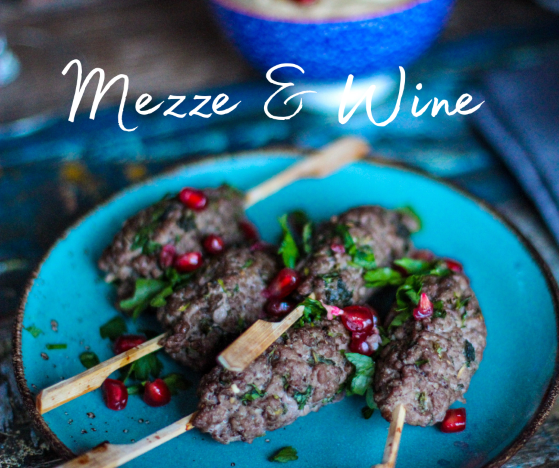 Event Description
Join us for a fabulous evening pairing fresh and fragrantly spiced Mezze dishes with a range of specially selected wines.
"Mezze" means "taste "or "snack" and is a style of dining that is popular in parts of the Eastern Mediterranean, North Africa and the Middle East. It's a fresh and fragrant style of cooking that uses clever blends of citrus, aromatic spice and gentle chilli heat with locally grown ingredients to create small dishes packed with flavour that come alive on the palate.
During the evening we will share the principles of food and wine pairing and then explain how to match wines with a range of different spices and levels of heat to create perfectly balanced pairings.
You will enjoy a selection of specially prepared hot and cold Mezze dishes all served with a recommended wine pairing. A typical menu for the evening will include the following:
Polenta crusted Halloumi with black sesame seeds with a Picpoul de Pinet
Two styles of Middle Eastern hummus and pitta bread with a lightly chilled Rose
Fragrant Tabouleh with a light, spicy Gruner Veltliner
Smoked Babaganush served with a lightly oaked Chardonnay
Slow cooked Moroccan Lamb Tagine with a rustic Southern Meditteranean red wine
Sticky roasted butternut squash with a red pepper & chilli rub with a spicy Shiraz
A trio of dessert Mezze including a burnt pistachio cream with pistachio brittle, sticky Baklava and a sweet Labneh all served with a delicious dessert wine
Perfect for foodies!
Allergy advice and dietary requirements
Please be aware this menu contains nuts.
Vegan, Vegetarian and gluten-free diets can be catered for with advance notice. Please e-mail us with any dietary requirements and details of allergies when booking on info@norfolkwineschool.com
Please be aware that this event starts promptly at 7pm. We recommend that you allow up to half an hour after the stated finish time before arranging transport home as occasionally service can run a little late.
Local Wine Schools in the Press

'The best wine courses and classes in the UK'
Daily Telegraph

'Londons loveliest wine tasting classes'
Time Out Magazine