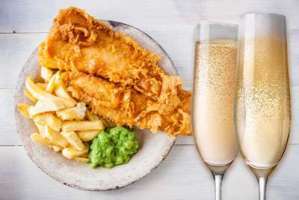 Event Description
This is a must for all fizz fans! A decadent evening of fine Sparkling wine with canapés followed by a fish & chip supper.
The evening starts with an introduction to the origins of Sparkling wine. We'll then share the secret of how the bubbles get into the bottle. Do you want to know what the letters 'NV' or the word 'BRUT' on the label of Sparkling wine actally means? We'll reveal this, and more.
In the first tasting of the evening we'll show you how to tell the difference between a Prosecco and a Champagne and you'll enjoy pairing some delicious fish based canapes specially developed for this event by the Chef's at YALM with three different styles of fizz.
We'll then explain why Sparkling wine is a match made in heaven with Fish and Chips and you'll enjoy a portion of lightly fried fish in a tempura style batter served with chunky chips and buttered sea vegetables paired with two more Sparkling wines.
During the evening you will taste six different styles of Sparkling wine:
A French regional Sparkling wine
A Prosecco from Italy
A Cava from Spain
A 1er Cru Champagne from France
A Champagne look-a-like from the New World
A fine English Fizz
Finally, you'll get to vote which wine you think works best with your Fish & Chips.
Vegetarian/fish alternative
We can offer vegetarian canapes and a fried vegetable alternative to those who don't eat fish; please request via e-mail at the time of booking.
Please be aware that this event starts promptly at 7pm. We recommend that you allow up to half an hour after the stated finish time before arranging transport home as occasionally service can run a little late.
Local Wine Schools in the Press

'The best wine courses and classes in the UK'
Daily Telegraph

'Londons loveliest wine tasting classes'
Time Out Magazine