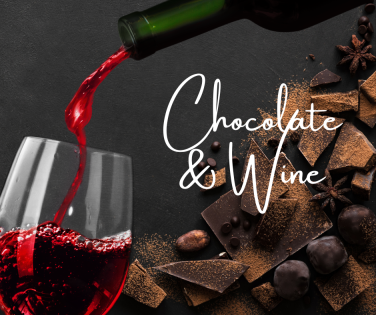 Event Description
Calling all chocoholics and wine enthusiasts!
Get ready to indulge in a scarily delicious food and wine pairing experience, just in time for Halloween!
Just like the diverse range of wines available, chocolate comes in a myriad of colours, flavours, and textures. But did you know that when carefully paired with wine, it creates an indulgent and adults-only combination that will send your taste buds into a frenzy?
Join us for an unforgettable evening where we will unlock the secrets of pairing wine with all things chocolate - desserts, sweet treats, and even your favorite chocolate bar for those cosy nights in front of the TV. Prepare to embark on a journey of flavor exploration as we reveal how to create perfect chocolate and wine pairings that will leave you craving for more.
In this interactive workshop-style event, we will present a carefully curated selection of at least six different wines. Each wine will be expertly paired with a unique chocolate or chocolate-based sweet treat. We will encourage you to venture into uncharted territory, experimenting with various combinations to discover the sensational pairings that truly delight your palate.
The tasting will include at least 3 of the following pairings:
Pedro Ximenez with chocolate & dried fruit

Californian Zinfandel with a single origin premium dark chocolate
Ruby Port with chocolate & berries
Rutherglen Muscat with a milk chocolate florentine
LBV Port with a 80% cacao dark chocolate
Sparkling Shiraz with chocolate brownie
Pinot Noir with milk chocolate
Allergy advice
Please be aware this tasting is likely to feature nuts so may not be suitable for those with nut allergies.
Local Wine Schools in the Press

'The best wine courses and classes in the UK'
Daily Telegraph

'Londons loveliest wine tasting classes'
Time Out Magazine