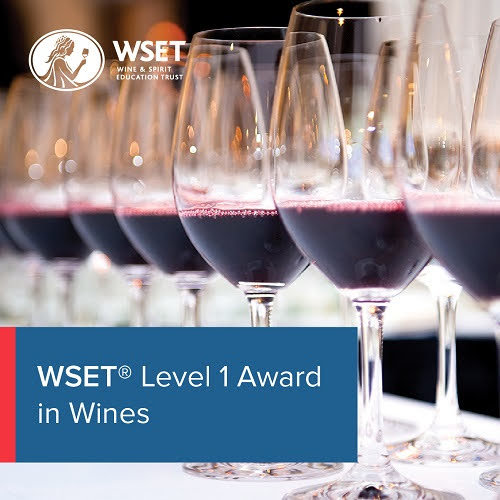 Event Description
The WSET Level 1 Award in Wine Certificate is a good introductory first course for the wine enthusiast who wishes to be introduced in a structured way to - wine styles, storing and serving of wine, and food and wine matching and also provides the basic product knowledge and skills in the service and retail of wine to prepare a person for their first job in hospitality or retail.
COURSE SYNOPSIS
Wine Tasting : Taste and describe wines using the WSET® Systematic Approach to Tasting
Food and Wine Matching : A practical guide to the key considerations when matching food and wine successfully
Wine Service and Storage : Learn the correct way to store and serve wine and recognise common faults found in wine
Social Responsibility : A guide to sensible drinking
Types and Styles of Wine : Learn about what makes wines taste different
Grape Varieties : Learn about the characteristics and styles of wines produced from the main grape varieties
Main white grape varieties: Chardonnay, Sauvignon Blanc, Riesling
Main black grape varieties: Cabernet Sauvignon, Merlot, Pinot Noir, Syrah/Shiraz
Named Wines : White: Pinot Grigio, Muscadet, Sancerre, Chablis, Sauternes
Red: Claret, Beaujolais, Châteauneuf-du-Pape, Rioja, Chianti
Number of Wines Tasted : minimum 10 wines will be tasted as part of the course
Study Materials : Students will receive the Foundation Certificate Study Guide
Duration of course : 1 day inclusive of examination
Modes of Study : Day Release
Examination : 30 multiple-choice questions to be answered in 45 minutes. A mark of 70% required to pass
Certification : All students who pass will be issued with a certificate suitable for framing and a lapel pin.
A minimum of 9 wines will be tasted as part of the course, all students receive a Level 1 Award Certificate Study Guide. Course Duration - 1 day inclusive of examination (30 multiple choice questions).
The Fee of £165 includes
study book, (provided on day)
9+ wines
food & wine matching
professional WSET tuition by WSET-Certified Tutor
examination fees
internationally-recognised WSET qualification certificate
VAT at prevailing rate. Please request VAT invoice if able to claim VAT
Local Wine Schools in the Press

'The best wine courses and classes in the UK'
Daily Telegraph

'Londons loveliest wine tasting classes'
Time Out Magazine