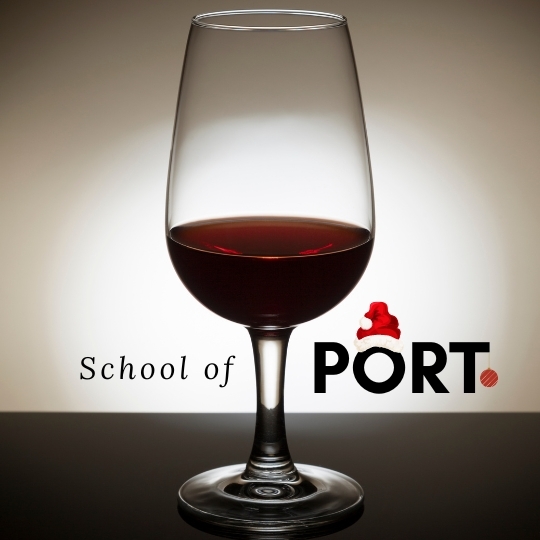 Event Description
Do you know your Ruby Port from LBV? Can you decipher the labels of Crusted and Vintage Ports? It is time to learn the Secret Art of Ruby Port and make your Christmas brighter!
Port and the Christmas holidays go together like pigs and blankets: we reach for the decanter after the festive dinner to elevate the occasion for generations. Sweet, red and rich is the traditional call, but gone are the days when it was a simple choice of 'red Port' from your local merchant. Not only does Port comes in red, tawny, white or pink, but the shades of red are markedly different: there is a wide range of ruby style ports available to uplift the celebration.
Adam from School of Port will join us for this evening to put the spotlight on Ruby Port delights: he will bring 7 different wines to taste (details below) while explaining the difference between Ruby Reserve, traditional and modern LBV's, Crusted, single Quinta and declared Vintage Ports. Whether you want to impress your uncle this Christmas, are looking for the perfect wine gift for your loved ones or really want to get the grip of this complex category in preparation for your WSET exam, this is the time and place to be!
School of Port is an educational initiative for wine professionals and wine lovers, created in 2020 by the port-mad people at Symington Family Estate to share the wonders of port and the Douro. They are the first port (sorry, pun intended) of call for anyone who wants to learn essential port knowledge and navigate more confidently around this complex wine category with relevant knowledge straight from the source: a family that is involved in making and selling port wine for 5 generations. Thousands of people have already enjoyed the short videos, interviews, expert Q&A's, video courses and exams, all available on their website for free: https://schoolofport.com
Wine on tasting:
Graham's Six Grapes Vila Velha
Cockburn's LBV 2018
Warre's 2009 LBV
Graham's Crusted 2013
Quinta do Vesuvio 2013
Dow's Senhora da Ribeira 2018
Dow's 2000
Adam Odor is a London-based certified port wine educator, who got his WSET Levels 2 and 3 from WLWS under the tutelage of Jimmy. He worked with Davy's and Majestic in the past and he runs tastings and masterclasses, working as an ambassador for School of Port in the UK.
Local Wine Schools in the Press

'The best wine courses and classes in the UK'
Daily Telegraph

'Londons loveliest wine tasting classes'
Time Out Magazine