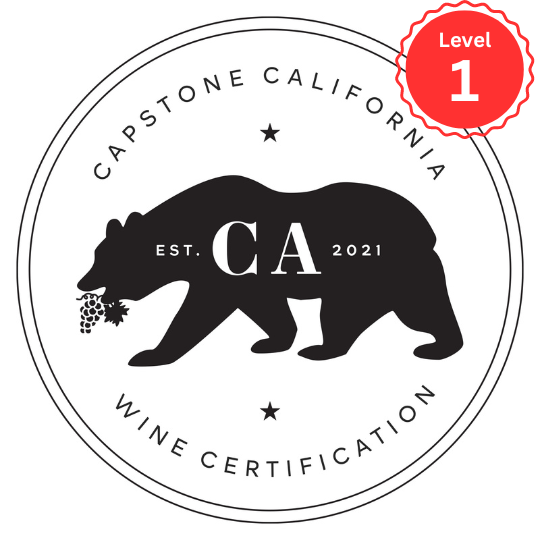 Event Description
Enrol in the first-of-its kind California wine certification and education program, Capstone California, with West London Wine School!
The Capstone California program offers four levels of study, from novice to expert. Each builds on the level prior and covers history, lore, geography, climate, soils, grapes, viticulture, vinification, ageing and maturation, wine laws, official classifications, producers, vintages and the business of wine.
Capstone California Course - Level 1
The Introductory Level 1 covers five hours of wine curriculum, beginning with major eras in the history of California wine, including the Mission era, post-Gold Rush, Prohibition and modern times. The course will start at 10am and will finish at 3:30pm (there will be a break included for students to have lunch).
Prefer to attend this course online with virtual taught lessons? We offer this format too! Check out our Online Professional Courses to find our next online course date.
PLEASE NOTE: You must complete Capstone California Level 1 before progressing to Level 2. All of our available Capstone California courses can be found HERE.
Level 1 candidates will:
Taste at least 8 Californian wines
Learn how California's geography, the Pacific Ocean and mountain ranges affect viticulture and wine styles.
Acquire fundamental knowledge of grape-growing practices and the specifics of viticulture compared to other agriculture, including the ability to identify and describe the important grape varieties grown in California.
Receive an introduction to the American Viticultural Area (AVA) system, including the world-famous AVAs of Napa Valley, Sonoma County and Santa Barbara County.
Explore California's iconic wineries, such as Ridge Vineyards, Frog's Leap Winery and Robert Mondavi Winery.
Learn about the key statistics for California wine in global production, consumption and exports.
Upon successful completion of an exam (which you are able to take online in your own time after attending the course), you will receive access to a Capstone California wine certificate.
Special Educational Needs: please make the School aware if you have a condition which may mean that you will qualify for additional help during the exam such as dyslexia.
VAT Receipt available on request - simply email us after your purchase.
West London Wine School is an exclusive partner of Capstone California in the UK and has adapted their previous online modular format qualifications to offer these as exciting and comprehensive in-person or virtual courses including wine tastings.
Local Wine Schools in the Press

'The best wine courses and classes in the UK'
Daily Telegraph

'Londons loveliest wine tasting classes'
Time Out Magazine