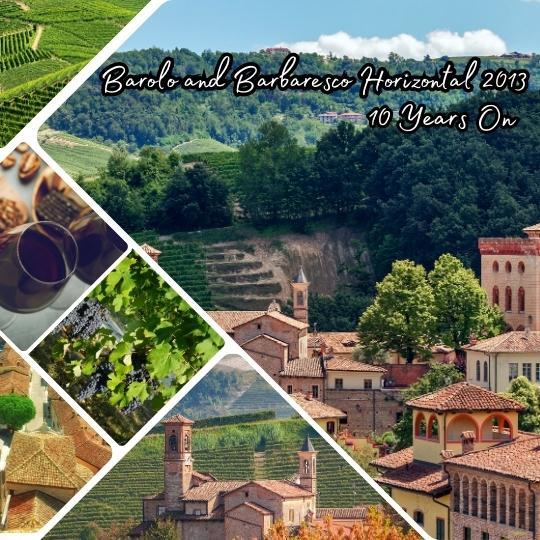 Event Description
Our first glimpse at the potential of the 2013s came from the excitement of our growers who could not stop waxing poetic about the vintage. Over the last few years, this seed blossomed as buyers and the press tasted the wines first out of barrel and then, more recently, from the bottle. And now that the wines are finally arriving on our shores, it is clear that excitement about this great vintage cannot be contained. One taste of these wines and it is clear: 2013 is one for the ages.
Rather attend this tasting ONLINE? We are hosting this tasting online on Friday 17th November 2023 at 7:30pm - 50ml of each wine will be sent directly to your door ahead of the evening.
Join us at West London Wine School for a thrilling Barolo and Barbaresco horizontal exploring the delights of the 2013 vintage. All the seven wines range from £35 to over £100 per bottle. There is little to say about the 2013 vintage that hasn't already been said: "thrilling," "classic," "a legend in the making," "a benchmark for years to come." If there ever was a vintage to invest in—for multiple reasons— Barolo 2013 is it.The 2013 vintage began with a wet spring followed by a warm summer with steady temperatures that were never scorching and therefore allowed the grapes to ripen steadily and gradually. Large diurnal swings in temperature during the latter months contributed to the development of beautiful aromatics and led to a later harvest, allowing for fully ripened tannins. Many have compared this vintage to the striking 2010s, but with lower alcohol levels and greater elegance. Antonio Galloni echoed this sentiment in his recent vintage report, writing: "the 2013s are Barolos that speak to finesse above all else."
Quotes on the 2013 vintage:
"thrilling, utterly captivating wines that speak to the pedigree and class that are the signatures of the best Barolo vintages." Antonio Galloni on the 2013 vintage
"Beautiful harmony, bright fruit, clarity—these are the defining traits of Barolo's 2013 vintage, which may be its best vintage since 2008." James Suckling
"…[2013 is] a vintage similar in quality to the already legendary 2010s." Jancis Robinson
Wines on Tasting (7):
Barolo Le Coste di Monforte, Silvano Bolmida, 2013 Wonderful example of Barolo from a prime vineyard in Monforte. Silvano Bolmida's attention to detail in the vines, long gentle maceration and slow development in barrel deliver superb, rich, naturally sweet fruit and rounded flavour, now at full stride.
Barbaresco Sori, Paitin, Paitin 2013 Splendid full-flavoured Barbaresco with freshness of fruit which has, as promised, delivered a beautifully, fragrant and seductive wine.
Barolo Bricco Boschis, Cavallotto 2013 From one of Barolo's top vineyards, this is traditional in the best sense with a wonderful bouquet evocative of roses and spice and full-bodied flavour after four years in Slavonian oak and the recommended decade in our cellars.
Barolo Cannubi, Luigi Einaudi 2013 Einaudi's vines are in the heart of this vineyard, famous for fragrant bouquet supported by voluptuous, velvety flavour. 45 year-old vines face south and south-east and wonderful red fruit and spices are fully resolved now, balanced well by the structured palate combining power and elegance. Drinking beautifully now, although decanting is recommended, this will continue to evolve over the next five to ten years.
Barolo Le Coste di Monforte, Anselma 2013 Le Coste di Monforte is at the southern limit of Barolo, facing Ginestra to the north and Francia in Serralunga to the east. The elevation combined with traditional winemaking has crafted a wine with serious cellar potential and structure. Savoury notes of black tea, tart red-berry fruit and orange peel open up with decanting, and will evolve further if given time. A serious structured Barolo showing the vintage clearly.
Barolo Prapo Schiavenza 2013 Rich, spicy, concentrated and classy, this Serralunga Barolo needed proper ageing to show its paces but was worth the wait.
Barolo Parafada, Massolino 2013 A stunning example of Serralunga Barolo from the Massolino family's oldest vines. This is Franco Massolino's favourite from his line-up, and no wonder.
A small selection of delicious cheese and charcuterie (with crackers)* is served at this tasting.
*We try to accommodate all dietary requirements, providing we are notified at least 48hrs in advance.
Local Wine Schools in the Press

'The best wine courses and classes in the UK'
Daily Telegraph

'Londons loveliest wine tasting classes'
Time Out Magazine