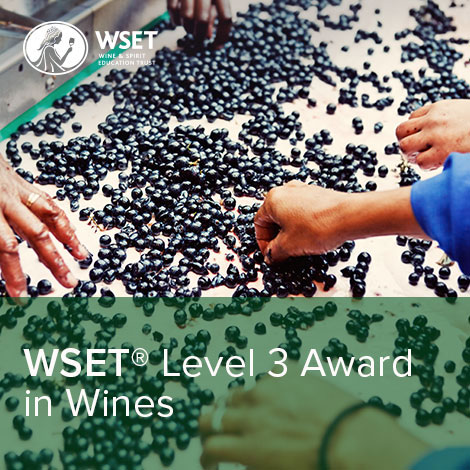 Course Description
This in-depth and intensive course is the Wine and Spirit Education Trust (WSET) Level 3 Award in Wines.
The course is designed for anyone wishing to gain in-depth knowledge of wines and build upon the knowledge gained at Level 2. You will acquire a thorough understanding of the factors influencing the style, quality and price of wines from key wine producing regions of the world. You will also develop analytical tasting skills using the systematic approach to tasting, and your blind tasting skills will form part of the examinations.
This qualification has full accreditation from the UK Government's Qualifications & Curriculum Authority as a Level 3 Vocational Qualification. It also provides the knowledge required for those wishing to progress on to the Diploma Level 4.
We recommend this course to those who have already completed the WSET Level 2 Award in Wines and Spirits, as the syllabus assumes that candidates already possess a good basic understanding of simple wine making techniques, key grape varieties and viticultural patterns.
It is excellent vocational training in product knowledge for those employed in the drinks industry who already have a good working understanding of the broad range of alcoholic beverages available, but who need to refine and develop their knowledge
If you are an employer wishing to train your staff this course will equip them with knowledge and understanding of a wide range of products. This course is suitable for someone in a supervisory level position in wine sales and service.
The course is also increasingly popular amongst those not employed in the drinks industry but who have a serious interest in wine and wish to study this fascinating subject to a high level of theoretical knowledge and tasting skill under the guidance of a professional wine tutor.
You can view a copy of the course specification by clicking here.
Course Dates:
This course runs on the following Sundays from 9.30am-5.30pm:
11th, 18th & 25th April
9th & 23rd May
6th June with the exam 2-5pm on 13th June.
If you cannot attend a date this need not matter - the materials are very comprehensive and if you do the reading and session revision questions you should be able to catch up on anything missed.
Course Synopsis:
Wine Tasting; Taste, describe and analyse wines using the WSET Systematic Approach to Tasting
Food and Wine Matching; A guide to the key considerations when matching food and wine successfully
Labelling; Learn how to decode and understand labels
Wine Production; Learn about the production factors influencing the style, quality and price of wine from vineyard to bottling
Light Wines; Learn about the styles of wines produced in the key wine regions and districts of the world: France, Italy, Spain, Portugal, Austria, Germany, Greece, South Africa, Australia, New Zealand, North and South America, England and Wales
Sparkling Wines; Learn about the methods of production and the main styles of sparkling wines from the key wine producing countries: France, Spain, Italy, Germany, New World - Australia, California, New Zealand, South Africa
Fortified Wines; Learn about the methods of production/main styles of fortified wines from the key wine countries: Spain, Portugal, France, Australia
Number of Wines Tasted: Approximately 70 wines will be tasted as part of the course
Study Materials: Students will receive an advanced course study pack, consisting of the course book, study guide and tasting card
Duration of course: 48 hours in class over 6 full days plus 2 hour examination
Recommended Private Study: 56 hours additional private study is recommended for this course. It is strongly recommended the majority of the private study is done in preparation for each session. Private study is essential to ensure that you are ready and prepared for the exam.
Examination: The examination is in two parts:
Theory paper: a combined theory paper consisting of a 50 question multiple-choice section and a four question short answer written section. 2 hours.
Tasting: a blind tasting of two wines. A mark of 55% required in all sections to pass. 1 hour.
Certification: All students who pass will be issued with a certificate suitable for framing and a lapel pin
Course Fee: £799
What's included in the course fee?
All WSET course materials including; Understanding Style and Quality course manual, Study Guide, specification and SAT Tasting Card
Tastings of over 60 wines including Champagne & Ports
We teach you the WSET Level 3 Systematic Approach to Tasting Wine ® which will enable you to analyse wines professionally
Use of professional ISO tasting glasses
All course handouts and tuition
Examination fees, official certificate and pin for all those who pass
Course Tutor: Jeremy Dunn, WSETDip, Certified Wine Educator
The registration deadline for this course is Thursday 1st April to enable us to register you with the WSET. We cannot guarantee that applicants who apply after this date will be able to join the course and a late applicant fee of £25 will apply.