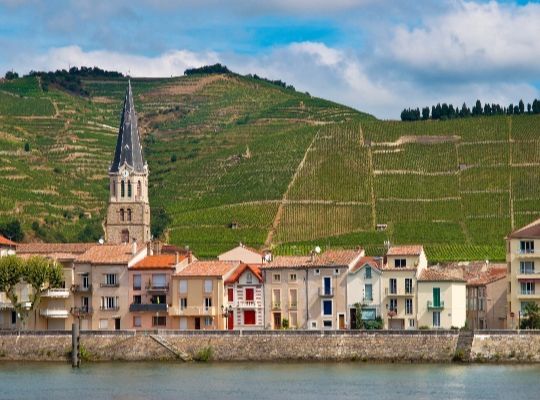 Event Description
In the Northern Rhone you will find predominantly red wines made from the Syrah grape variety. Topography is important here with many of the vineyards being planted on steep south facing slopes overlooking the river. Hermitage, Crozes Hermitage and St Joseph produce wines which are rich, full bodied with smoky, meaty and spicy flavours.
In the Southern Rhone the red wines are made from a blend of grapes such as Grenache, Shriaz and Mourvedre. The ubiquitous Cotes du Rhone AC is responsible for many easy drinking reds that have graced our dinner table and wine bars for years. At the top end is Chateauneuf du Pape, famous top quality red renowned for intense spicy character and rich, full bodied expression.
And it's not only reds you'll find here, although they are the most famous wines from the region. Vibrant rose wines are a speciality of the Tavel region, white wines from aromatic grapes such as Marsanne, Roussanne and Viognier are found across the region, and intensely sweet and perfumed wines are made in Beaumes de Venise. So all in all there is something for everyone!
The Rhone Valley has always been one of my favourite regions and I love being able to share bottles with people for them to experience the beauty of the wines made here. I am not sure exactly what we will be tasting on this preposterous evening but, as always, I will be looking out for some special bargains so you can snap them up. Make sure you don't miss out!
This evening tasting is part of our Explore the Wines of France 3 week course. Book all three and save over 10%
Local Wine Schools in the Press

'The best wine courses and classes in the UK'
Daily Telegraph

'Londons loveliest wine tasting classes'
Time Out Magazine