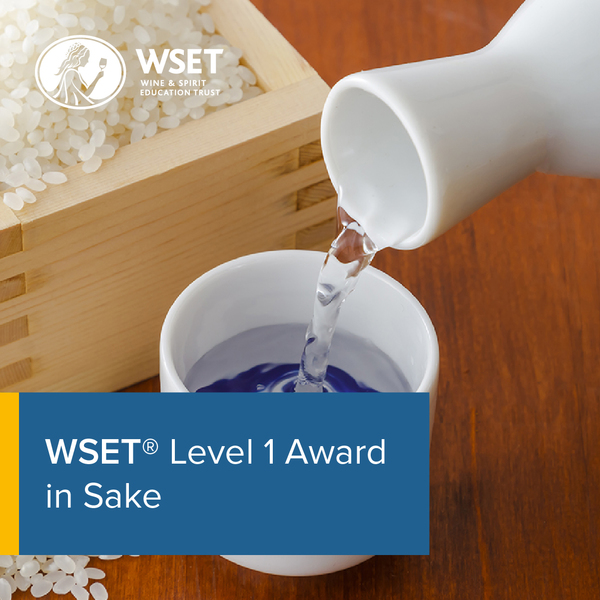 Duration
7 hours (including lunch break)
Course Description
The Wine and Spirit Education Trust (WSET) Level 1 Award in Sake (formerly known as the Foundation Certificate) is ideal starting point for anyone interested in Sake who is considering embarking on a professional career in the drinks industry or those with no little or prior experience of sake tasting. It is an enjoyable, relaxed and interactive course which is completed in a single day, including the exam, making it easy to fit in with busy working schedules. WSET Level 1 Award in Sake has full accreditation from OfQual as part of the UK Government's Qualifications & Credits Framework as a Level 1 Vocational Qualification.
Who should consider studying WSET Level 1?
For individuals new to the subject, this qualification offers a hands-on introduction to the world of sake. You'll explore the main styles and types of sake through sight, smell and taste to develop an understanding of the key factors affecting flavours and aromas. Upon successful completion you will receive a WSET certificate and lapel pin.
This course is also a great introductory first course for anyone interested in sake who wishes to study in a structured way.
No previous experience of Sake Tasting is necessary to register on this course.
COURSE SYNOPSIS
Sake Tasting: Taste and describe sake using the WSET® Systematic Approach to Tasting
The basic principles of sake production
The main types and styles of sake
How to serve sake
Factors affecting the flavour of sake
Number of Sake Tasted: at least 7 sakes will be tasted as part of the course
Study Materials: Students will receive the WSET Level 1 Award in Sake Study Guide upon arrival in class.
Course Specification: Those who wish to review the course specification in preparation for the course can view it by clicking HERE.
Duration of course: 1 day inclusive of examination
Examination: 30 multiple-choice questions to be answered in 45 minutes. A mark of 70% required to pass
Certification: All students who pass will be issued with a certificate suitable for framing and a lapel pin.
Special Educational Needs: Please make the School aware if you have a condition which may mean that you will qualify for additional help during the exam such as dyslexia.
VAT receipts are available on request- simply email us after your purchase if you require this.