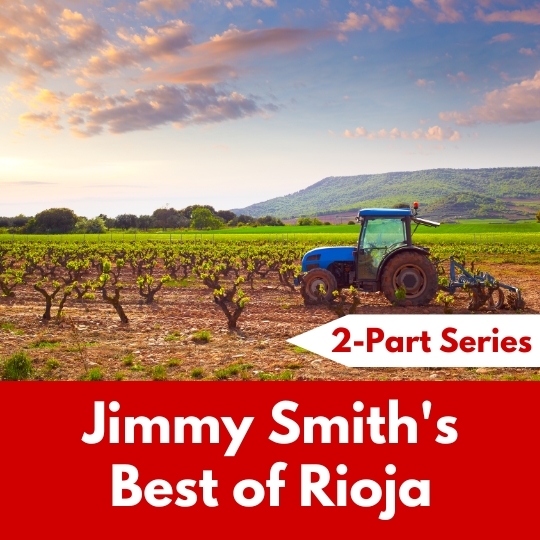 Course Description
Join wine school founder Jimmy Smith as he excitedly leads us through a two-part series looking at the classic region of Rioja from Spain. Jimmy was recently a guest of the Consejo Regulador of DOCa (Denominación de Origen Calificada) Rioja to become a Rioja wine ambassador from the Rioja Wine Academy. After a week-long visit he tasted hundreds of wines and he has hand-selected his favourites that represent both the traditional and modern examples of this world-class region.
Prefer to Attend This Series Online? We are hosting this same tasting series online starting Thursday 2nd March 2023.
Traditional Rioja:
On the first evening of this two part series, Jimmy will focus on 'traditional Rioja'. Within Rioja there are some traditional bodegas (wineries) that have produced wine through the generations and typically craft their product in a more rustic and old-school expression. These estates emerged in the 19th century to supply France which was in the full phylloxera pandemic and therefore had a dramatic reduction on wine production. Many of these estates were established in the train station district of Haro allowing ease of export transportation on the newly-founded rail networks. Examples of these bodegas include CVNE, Lopez de Heredia (Viña Tondonia), Muga, Gómez Cruzado and La Rioja Alta. Often their pinnacle wines are Gran Reservas with extensive ageing in American and French oak.
Jimmy will show a host of superb wines spanning over twenty years of ageing including exceptional vintages such as 2001, 2005, 2007 and 2011 as well as a few younger expressions.
Modern Rioja:
On the second evening, we'll discover 'modern Rioja'. Whilst traditional Rioja often steals the limelight, modern Rioja is crafted often from young estates or those that have adapted their grapegrowing and winemaking processes. Jimmy was thoroughly excited and impressed by the diversity and world-class quality surfacing from this sector. This includes top estates such as Bodegas Roda from the Haro station district as well as the likes of Miguel Merino and Artuke who has have won multiple awards from Tim Atkin MW (who writes the annual Rioja Report).
Expect a range of grape varieties and varying innovative winemaking processes including more use of French oak (rather than the traditional American oak). Wines will range back to 2004 and include Tim Atkins wine of the year in 2021, the La Loma 2017 from Miguel Merino.
Cheese and meats will be served alongside the wines on both tasting evenings.
'Traditional Wines' on Tasting (8):
2017 Rioja Blanco Gran Reserva Valserrano
2001 Urbina Reserva Especial
2005 Muga Prada Ena Gran Reserva
2007 La Rioja Alta 904 Gran Reserva
2011 Hermanos Pecina Senorio de P. Pecina, Gran Reserva
2014 López de Heredia, Viña Cubillo Crianza
2018 CVNE Imperial Reserva
2010 López de Heredia, Viña Tondonia Reserva
'Modern Wines' on Tasting (8):
2019 Pretium Blanco
2017 Suañé Blanco Reserva
2017 Suañé Rosado Reserva
2019 Paco García Crianza
2018 Struggling Vines Phinca Hapa Tinto
2018 Artuke Paso Las Manas Tinto
2017 Miguel Merino La Loma Tinto – Tim Atkin Rioja Wine of Year 2021
2004 Roda I Reserva
Including...
Jimmy's Best of Rioja - Traditional Wines
The Wine Cellars, Fulham, SW6 2SG
7:00pm
Jimmy's Best of Rioja - Modern Wines
The Wine Cellars, Fulham, SW6 2SG
7:00pm