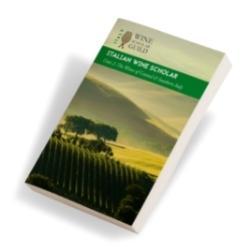 Course Description
This programme was created by native Italian, Maurizio Broggi, DWS, FWS with the support of the Italian wine DOC/G consortia. The Italian Wine Scholar™ study program mirrors the unparalleled level of depth, accuracy, detail and academic rigor offered by the acclaimed French Wine Scholar™ program. Like the French Wine Scholar program, the Italian Wine Scholar study and certification program also confers a post-nominal to wine professionals and enthusiasts who successfully pass the certification exams (Ex: John Smith, IWS).
The Italian Wine Scholar course is composed of two separate units:
Unit 1: The Wines of Northern Italy
Unit 2: The Wines of Central & Southern Italy
There will be two separate study manuals and two separate exams. The Italian Wine Scholar™ credential/pin is based on the final composite score (Unit 1 & 2). This format makes it much easier to retain information and to pass the exam. Students register for each unit separately.
IMPORTANT: You do not need to attend Unit 1 before attending Unit 2 - these course units can be completed in any order.
WHO SHOULD CONSIDER STUDYING THE IWS COURSE?
IWS is designed to test for proficiency in ALL the wines and wine regions of Italy.
IWS is ideal for those currently studying or completed WSET Level 3 and Level 4 Diploma as an ideal supplement
IWS is also ideal for sommeliers, importers and distributors and for those who hold an enthusiastic interest for the Italian wine industry
COURSE FORMAT:
COURSE FORMAT:

The Italian Wine Scholar curriculum is comprised of seven x 2.5 hour classes (Total 20 Hours) usually on consecutive Mondays, Tuesdays, Wednesdays or Thursdays
The exam is sat on the eight evening
A minimum of 7 wines will be tasted per class

The course fee includes:

A comprehensive study manual which also serves as reference book
Learning objectives for each region
Interactive online study modules for each region (link)
Online quizzes and learning games for self-evaluation
Pronunciation exercises
Access to live and recorded review webinars with Maurizio Broggi, Education Director for Italy
Professional tuition by Wine Scholar Guild certified tutor
Examination fees
Internationally-recognised qualification certificate and pin for those who pass.
Including...
Italian Wine Scholar - Unit 2 - Toscana (Part 1)
The Wine Cellars, Fulham, SW6 2SG
7:00pm
This is Part 1 of the Tuscany unit of the Wine Scholar Guild programme. Join us as we explore this iconic wine region in great depths. Perfect for WSET Diploma, WSET Level 3 and/or Italian wine enthusiasts.
Italian Wine Scholar - Unit 2 - Toscana (Part 2)
The Wine Cellars, Fulham, SW6 2SG
7:00pm
Italian Wine Scholar - Unit 2 - Marche and Abruzzo
The Wine Cellars, Fulham, SW6 2SG
7:00pm
Italian Wine Scholar - Unit 2 - Umbria, Lazio & Molise
The Wine Cellars, Fulham, SW6 2SG
7:00pm
Italian Wine Scholar - Unit 2 - Campania & Basilicata
The Wine Cellars, Fulham, SW6 2SG
7:00pm
Italian Wine Scholar - Unit 2 - Puglia & Sardegna
The Wine Cellars, Fulham, SW6 2SG
7:00pm
Italian Wine Scholar - Unit 2 - Calabria & Sicily
The Wine Cellars, Fulham, SW6 2SG
7:00pm
Wine Scholar Guild: Exam
The Wine Cellars, Fulham, SW6 2SG
7:00pm