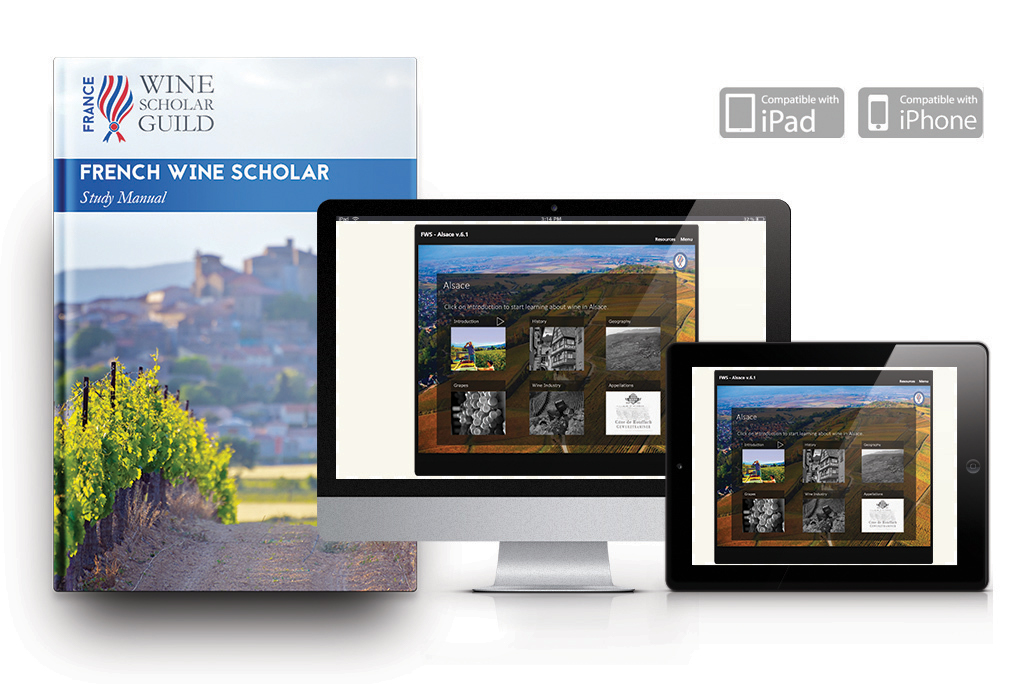 Course Description
WHO SHOULD CONSIDER STUDYING THE FWS COURSE?
FWS is designed to test for proficiency in ALL the wines and wine regions of France.
FWS is ideal for those currently studying or completed WSET Level 3 and Level 4 as an ideal supplement
FWS is also ideal for those who hold an enthusiastic interest for the French wine industry
No previous experience of Wine Tasting is necessary to register on this course.
West London Wine School was awarded the French Wine Scholar Programme Provider of the Year in 2017!
COURSE FORMAT:
The French Wine Scholar curriculum is comprised of eight 2 1/2 hour classes usually held on the same evening over consecutive weeks and a one hour exam held on the ninth evening
All students receive a study book (please see an excerpt below) as well as access to the fantastic course E-Learning Modules
There is an additional tenth evening on which is the examination occurs
An average of 8+ wines will be tasted per class with some matching with typical regional foods
COURSE SYNOPSIS:
Wine Tasting: Taste and describe wines from key French regions
Regional Food and Wine Matching: An informal guide to the key considerations when matching food and wine
Wine Service and Storage: Learn the correct way to store and serve key French wines
Grape Varieties: Learn about the characteristics and styles of wines produced from ALL the French grape varieties
Regions: Full immersion in ALL the French wine regions; Alsace, Champagne, Burgundy, Beaujolais, Jura, Savoie, Loire, Bordeaux, Languedoc-Roussillon, Rhone, Southwest, Provence and Corsica
Number of Wines Tasted: 60+ wines will be tasted as part of the course
Study Materials: Students will receive the French Wine Scholar Study Manual, a comprehensive guide to ALL French wine
Additional Materials: Students will have access to a complete E-Learning Package. There are 20 multimedia modules with webinars on regional wine styles, review quizzes, forums, downloadable maps & etc.
Duration of course: 9 evenings inclusive of examination on the tenth session. Evenings will last from 7pm until approximately 9:30pm
Examination: 100 multiple-choice questions to be answered in 60 minutes. A mark of 75% required to pass
Certification: All students who pass will be issued with a certificate suitable for framing and a lapel pin.
Including...
French Wine Scholar: Introduction, Fundamentals and Alsace
The Wine Cellars, Fulham, SW6 2SG
7:00pm
French Wine Scholar: Champagne
The Wine Cellars, Fulham, SW6 2SG
7:00pm
French Wine Scholar: Bourgogne
The Wine Cellars, Fulham, SW6 2SG
7:00pm
French Wine Scholar: Beaujolais, Jura and Savoie
The Wine Cellars, Fulham, SW6 2SG
7:00pm
French Wine Scholar: Loire
The Wine Cellars, Fulham, SW6 2SG
7:00pm
French Wine Scholar: Bordeaux and South-West France
The Wine Cellars, Fulham, SW6 2SG
7:00pm
French Wine Scholar: Rhone and Provence
The Wine Cellars, Fulham, SW6 2SG
7:00pm
French Wine Scholar: Languedoc, Roussillon and Corsica
The Wine Cellars, Fulham, SW6 2SG
7:00pm
Wine Scholar Guild: Exam
The Wine Cellars, Fulham, SW6 2SG
7:00pm