Why is this the perfect pairing? The high acidity and bubbles in traditional method sparkling wines cut through the rich oily batter and chips, making the food feel lighter. One of the best food and wine pairings EVER. If you don't believe us, come along to one of our Fizz, Fish & Chip events and give it a try.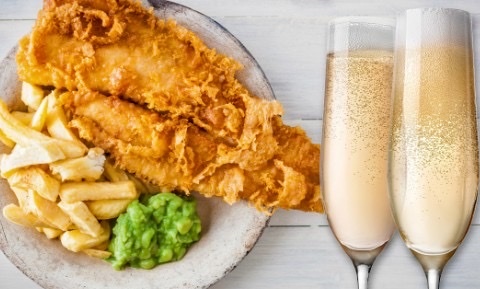 Champagne and Sparking Wine with Fish & Chips
Champange and Sparkling Wine, matched with Fish & Chips! The perfect food and wine pairing. Do you want to know what the letters 'NV' or the word 'BRUT' on the label of Sparkling wine actally means? We'll reveal this, and more.
£50.00
Gift options available
Sorry, Sold Out
More Info

'The best wine courses and classes in the UK'
Daily Telegraph

'Londons loveliest wine tasting classes'
Time Out Magazine

Best Wine Courses - "5 Wine Schools I rate"
Delicious Magazine