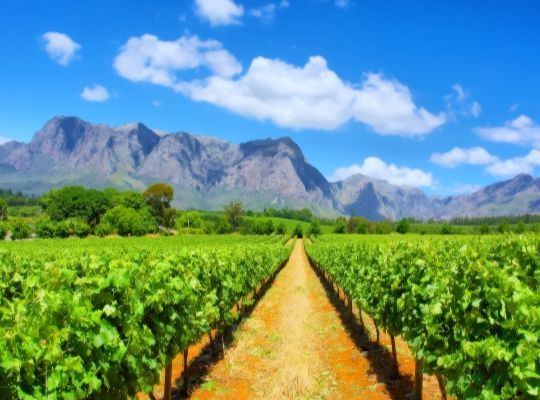 As seen on

Event Description
Join us for an evening of spectacular New World showstoppers!
South Africa has a long and distinguished history of wine production going back over 400 years - it is a old 'New World' wine country. Since the abolition of apartheid the quality of its wine-making has risen to showcase the talent which its history deserves.
Chunky, chocolatey reds and elegant European-style whites are now the order of the day, served up by a precocious band of young, cutting edge winemakers.
How many other New World countries can boast their own grape variety? Pinotage is South Africa's very own 'marmite' grape (you'll either love it or hate it!), with its smooth, smokey, mocha-spiced flavours it certainly packs a punch in the mouth! Increasingly, South Africa is also making waves with its elegant, mineral-filled, crisp whites from the Loire varieties of Sauvignon Blanc and Chenin Blanc grown around the ocean-buffeted tip of the southern cape.
The food and wine scene around Stellenbosch has exploded recently with new winemakers such as Marc Kent and Graham Beck crafting thoroughly modern premium wines. This melting pot of factors, combined with South Africa's uniquely long history of winemaking outside of Europe, makes it a fascinating country to come and taste your way around!
Local Wine Schools in the Press

'The best wine courses and classes in the UK'
Daily Telegraph

'Londons loveliest wine tasting classes'
Time Out Magazine