Wine & Spirit Education Trust courses are open to everyone and provide nationally-recognised, Government-accredited qualifications for wine industry professionals and other enthusiasts. Hertfordshire Wine School is an Approved Programme Provider on behalf of the WSET.
WSET Level 1 Award in Wines provides basic product knowledge and skills, in the service and retail of wine, for a first job in the sector, or for anyone wanting to learn about wine. Discover and taste the main grape varieties, plus explore food and wine pairing. 7hrs of tuition / 0 hrs of home study/ multiple choice exam. View upcoming WSET Level 1 in - person courses and WSET Level 1 online courses.
WSET Level 2 Award in Wines was originally developed as vocational training for in the drinks industry and it is also appropriate for, and very popular with, others who have a serious interest in wine, and wish to broaden their knowledge in a structured way. Taste a wider range of grapes and wine styles, and start exploring the wines regions of the world. 18 hrs tuition / 14 hrs home study / multiple-choice exam. View upcoming WSET Level 2 in-person courses and WSET Level 2 online courses.
WSET Level 3 Award in Wines is an advanced level qualification giving a detailed understanding of grape-growing and wine making. It is suitable for those candidates who have already completed WSET Level 2 (or equivalent qualification). 60+ wines tasted / 30 hrs tuition / 54 hrs home study / multiple-choice & written answer + blind-tasting exam. View upcoming WSET Level 3 courses.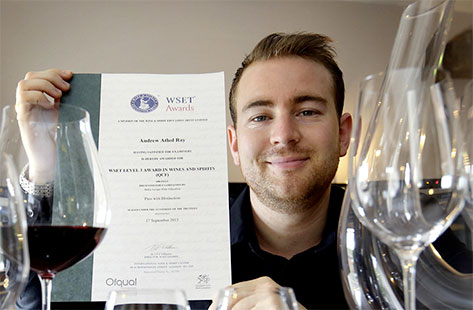 Where to study WSET Courses
Find and sign up at your nearest Local Wine School
Why book a WSET Course with Hertfordshire Wine School?
We offer a personalised service, with direct feedback on progress during your course, offering assistance to students when needed outside of classroom hours.
As professional wine educators we do not sell wine to remain impartial.
All our WSET Tutors are WSET Certified Educators.
We make wine tasting fun, remember, slurping is a skill.
And all this translates into helping you be successful.
Local Wine Schools in the Press

'The best wine courses and classes in the UK'
Daily Telegraph

'Londons loveliest wine tasting classes'
Time Out Magazine