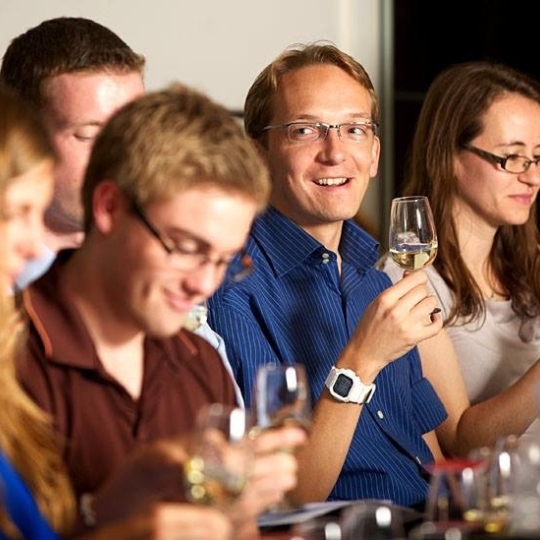 Course Description
The 8-week World Course is structured as a practical introduction to the world of wine. It is designed specifically for people who enjoy wine and would like to learn more about it. You do not need any previous experience, and the emphasis is on learning by tasting different varieties of wine. It is also a great way to meet new friends who share your love of wine. You will soon learn which wines you like and where to buy them.
Over 60 wines will be tasted in 8 weeks
Retail prices of wines tasted will be from £6 to over £30
Discover where to obtain today's best value for money wines.
Wine & Food Matching advice
Common wine faults - how to spot them
Storing & Serving wine advice
Taste the worlds major Grape Varieties – Shiraz, Cabernet, Merlot, Pinot Noir, Sangiovese, Tempranillo, Sauvignon Blanc, Chardonnay, Riesling, Semillon, Viognier, Pinot Grigio, Chenin Blanc, & many others
WHAT SHOULD I GET FROM THE COURSE?
You will have gained a good understanding of the world's major grape varieties and the wine styles they produce.
You will have been taught to assess, & taste wine like a true professional, and be able to identify any faults found in wine (e.g. a corked wine).
During the 8 Evenings we will have tasted wines from most of the worlds major wine regions (Tasting approx 60 wines)
Food & wine matching will also have given you a lot of confidence to try new wine pairings with your favourite foods.
You will also have developed your sense of smell and wine vocabulary & met some new friends.
WHAT IF I HAVE TO MISS A SESSION?
Not a problem. As long as you let us know 3-days before the session date, we can transfer you onto a subsequent 8 Week Course session, or provide you with a voucher valid for any of our West London Wine School courses and tastings. If at the last minute you can't make it to the session you are more than welcome to send a substitute. The course has been designed to allow for sessions to be completed in any order, so you will not be at a disadvantage if you need to make up an evening at a later date.