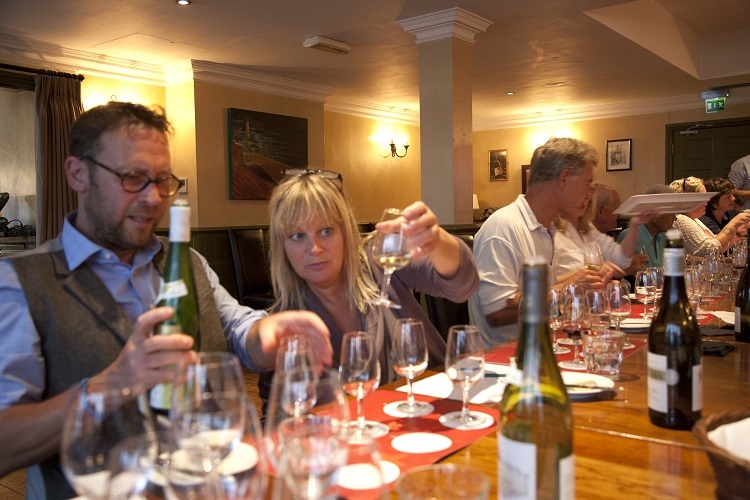 Course Description
Our 8 Week World of Wine Course is designed as a practical introduction to the world of wine and runs one evening per week. It's flexible as you can pick up any missed sessions on the next 8 week course!

No previous wine experience required – the emphasis is on learning by tasting different wines.

Great value - get One Night Free!
pay £210 course fee
this SAVES £30 compared to individual session prices (one night free)
Recent review: "I did the 8 week World Wine Tasting and wow i learnt a lot, and tasted a lot of great wines from all over the world. This course is informative but does not overload you with too much information, which is great if you want to get a good basic understanding! A relaxed atmosphere and a really nice way to spend an evening, learning and trying wines. A great experience and great price. I highly recommend!" Emily

WHAT IF I HAVE TO MISS ANY EVENINGS?

No problem - Pick up the missed session on the next World of Wine Course. We run three courses a year.

WHAT WILL I GET FROM THIS COURSE?

By the end of the 8 evenings:
You will have gained a good understanding of the world's major grape varieties and the wine styles they produce
You will have been taught to assess and taste wine like a true professional, and be able to identify any faults found in wine (e.g. a corked wine)
During the 8 evenings we will have tasted wines from most of the worlds major wine regions (tasting around 50 wines)
Food & wine matching will also have given you a lot of confidence to try new wine pairings with your favourite foods
You will also have developed your sense of smell and wine vocabulary

KEY FEATURES OF THE WORLD OF WINE COURSE
Taste over 50 delicious wines in 8 weeks
Retail prices of wines tasted will generally be between £6 and £20
Discover where to obtain today's best value for money wines.
Wine and food matching advice
Common wine faults - how to spot them
Storing and serving wine advice
Taste the world's major red grape varieties – Shiraz, Cabernet, Merlot, Pinot Noir, Sangiovese, Tempranillo, Grenache and others
Taste the world's major white grape varieties – Sauvignon Blanc, Chardonnay, Riesling, Semillon, Viognier, Pinot Grigio, Chenin Blanc and others
Professional ISO tasting glasses, tasting notes and course notes are all provided
COURSE OUTLINE: WEEK BY WEEK
Week 1 - France: the major regions + tasting skills, aromas, grape varieties
Week 2 - Italy: the major wines + how wine is made
Week 3 - Spain & Portugal + the importance of climate and weather
Week 4 - Germany, Autria, UK + principles of wine and food pairing
Week 5 - Australia & New Zealand + understanding wine labels
Week 6 - Chile & Argentina + common wine faults
Week 7 - USA & South Africa + serving and storing wine
Week 8 - Sparkling & Sweet wines + end of course drink

Tastings start at 7pm and run for approx 2 hours, finishing by 9pm. Each week we will examine how different grape varieties, different climates and local wine-making techniques impact on the aromas and flavours of the wine. Through practice and our guidance you will learn how to identify the wine's characteristics - we show you how to taste and appraise wine like a professional.
Including...
Introduction to France
Hotel du Vin Brighton
7:00pm
Introduction to Italy
Hotel du Vin Brighton
7:00pm
Introduction to Spain
Hotel du Vin Brighton
7:00pm
Introduction to Germany, Austria and England
Hotel du Vin Brighton
7:00pm
Introduction to Australia and New Zealand
Hotel du Vin Brighton
7:00pm
Introduction to Chile and Argentina
Hotel du Vin Brighton
7:00pm
Introduction to USA and South Africa
Hotel du Vin Brighton
7:00pm
Introduction to Sparkling and Sweet Wines
Hotel du Vin Brighton
7:00pm