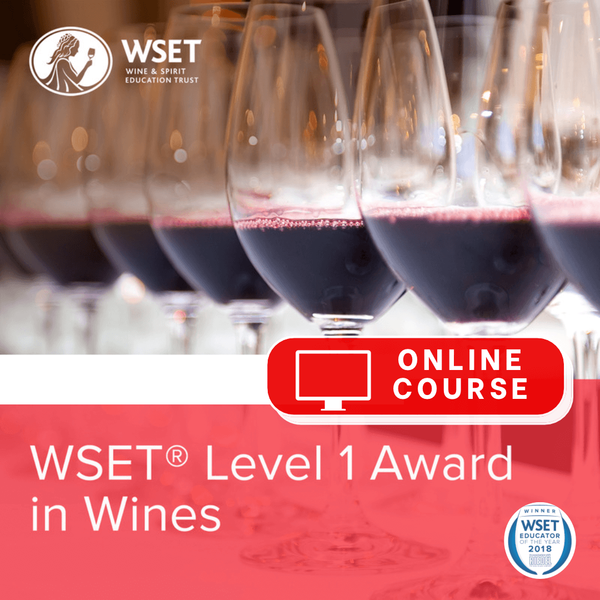 Event Description
The Wine and Spirit Education Trust (WSET) Level 1 Award in Wine is the ideal starting point for the novice wine enthusiast, or anyone starting a career in wine or hospitality. WSET Level 1 Award in Wines has full accreditation from OfQual as part of the UK Government's Qualifications & Credits Framework as a Level 1 Vocational Qualification.
This course is delivered ONLINE over two weeks with a minimum of 6 hours total study (including LIVE virtual lessons) recommended to successfully complete the course. Regular internet access and participation is essential.
The Level 1 Award in Wines Online covers the same syllabus as the classroom course, but through a supported Online Classroom which allows you to study alongside your peers under the guidance of a dedicated educator.
Please note that the exam can be completed in-person at West London Wine School or online - CLICK HERE FOR THE REQUIREMENTS TO DO THIS EXAM ONLINE. Please note that the course fee includes the exam in either format.
What's Covered on the Course:
The main types and styles of wine
Common wine grapes and their characteristics
How to make food and wine pairings
Online tasting of nine wines with educator feedback
How to store and serve wine
Entry Requirements:
No prior knowledge is required. The course is delivered online and in English, therefore basic computer literacy, internet navigation skills and a good level of English are required.
Course Schedule & Important Dates:
Monday 18th September 2023 at 4pm: Registration Deadline (Note: last-minute bookings may not receive their study material on time of their first lesson, but do not worry as you can catch up with the recording as soon as you receive it.)
Monday 18th September 2023 at 7:30pm – 9:30pm: 1st LIVE virtual classroom session
Monday 25th September 2023 at 7:30pm – 9:30pm: 2nd LIVE virtual classroom session
Exam: An email with the proposed exam date will be sent on your first day. You can sit the exam online or in-person.
To obtain the WSET Level 1 Award in Wines Qualification, you will need to successfully pass an exam (either in-person or online) that is made up of 30 multiple-choice questions to be completed in 45 minutes. You must answer at least 70% correctly to pass the exam.
NOTE: All live virtual sessions will be recorded, so if you are unable to attend one of the sessions above as planned, you can revisit the lesson in your own time.
Course Format:
The course will have 2 'LIVE' virtual taught lessons with a West London Wine School tutor. These lesson times are reflected above in the course schedule. These live sessions allow our tutors to present, explain and review the course content in the same way as they would in an actual classroom lessons, with the added bonus of being able to utilise tools such as digital and real-time quizzes to further enhance student learning. Students can also engage with the tutor and ask questions throughout each 'live' class session.
After each lesson, students are invited to a video zoom session with their course tutor and all other course participants. The zoom sessions are not mandatory, but provide an additional fun and relaxed way for students to further discuss the lesson topics with their tutors as well as catch-up with their classmates more socially.
Enrolled students will receive access to West London Wine School Founder and Chief Educator Jimmy Smith's Online Revision Portal: E-Learning Wine. This portal contains hundreds of multiple-choice revision questions specific to this course as well as other revision tools such as flashcards and useful videos.
The Course Fee of £185 Includes:
Tasting kit containing 50ml samples of each wine tasted on the course (9 in total). For more information about the tasting kits, please see below.
Course study guide (students can choose to either receive a physical booklet in the post or a digital copy accessible online)
Access to 'LIVE' virtual taught lessons taught by a West London Wine School WSET Certified Tutor (and access to the recordings of each of these lessons)
Exclusive access to Jimmy Smith's 'E-Learning Wine' online revision platform containing mock exams, revision questions, educational videos, flashcards, and more!
Professional WSET tuition
Exam & all related examination fees
Internationally-recognised WSET qualification certificate and pin for those who pass the in-person exam
Course Wines:
For this course, students will receive a tasting kit with 50ml samples of the 9 wines tasted throughout the duration of this course. These tasting kits will be delivered during the week leading up to the start of the course (provided the course booking is made at least 3 working days' prior to the course start date).
Tasting kit delivery can be made to anywhere within the UK. If you are interested in receiving the tasting kit, however the delivery address is not within the UK, please get in touch BEFORE booking as depending where you are located, we may be able to still arrange delivery for an additional fee.
If you do NOT want to receive a tasting kit, and just want to book onto the course without receiving wine samples – NO PROBLEM! Please just enter the code WSETL1REG as a 'Promotional Code' upon checking out, and the tasting kit associated fees on this course will be removed before you make course payment.
Special Educational Needs: please make the School aware if you have a condition which may mean that you will qualify for additional help during the exam such as dyslexia.
VAT Receipt available on request - simply email us after your purchase.
Local Wine Schools in the Press

'The best wine courses and classes in the UK'
Daily Telegraph

'Londons loveliest wine tasting classes'
Time Out Magazine