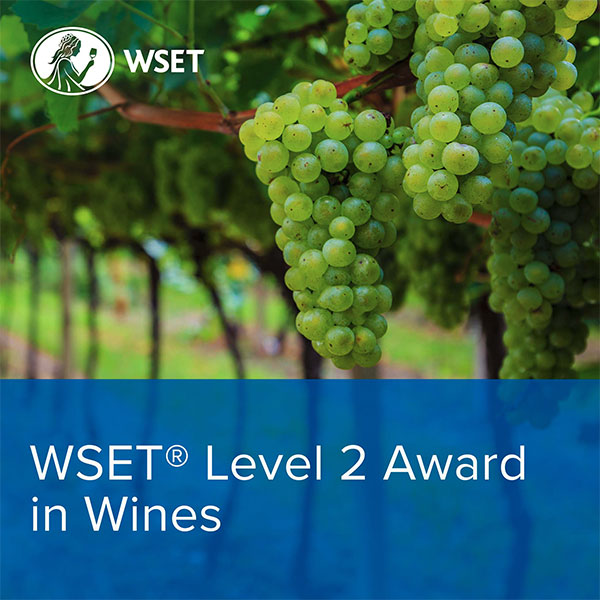 Course Description
Course Dates: 3 Full Days – Sundays 21st November, 12th December and 19th December, 10.30am to 5pm
The WSET Level 2 Wine award course is suitable for anybody who has a serious interest in wine and wishes to broaden their knowledge in a structured way.
The WSET Level 2 Award in Wines has full accreditation from Ofqual as a Level 2 Vocational Qualification. Through a combination of tasting and theory you will explore the factors that impact the style and quality of wine and learn how to describe wines with confidence.
What the course covers:
Wine Tasting: Taste and describe wines using the WSET Systematic Approach to Tasting
Food and Wine Matching: You will learn about the key considerations when matching food and wine successfully
Wine Service and Storage: Learn the correct way to store and serve wine and recognise common faults found in wines
Labelling: Learn how to decode and understand labels
Factors influencing the Style of Wine: Study the factors influencing the style, quality and price of wine in the vineyard and winery
Grape Varieties: You'll learn about the styles of wines produced by the key international red and white grape varieties (Chardonnay, Pinot Grigio, Sauvignon Blanc, Riesling, Cabernet Sauvignon, Pinot Noir, Merlot and Syrah/Shiraz) as well as the styles of wines made with a further 22 regionally important grape varieties
Sparkling and Fortified wines: You will be taught how grape varieties and winemaking processes influence the style of wines in these two key wine categories
Key Wine-Producing regions of the World: Learn about the main styles of wines from the key wine-producing regions. France, Germany, Italy, Spain, Portugal, USA, Argentina, Chile, Australia, New Zealand and South Africa
Examination: The 1 hour, 50 multiple-choice question exam is taken in the afternoon of the final day of the course and the exam fee is included in the course cost. A mark of 55% required to pass.
Certification: All students who pass will be issued with a certificate suitable for framing and a lapel pin.
N.B. In addition to classroom teaching, students are expected to complete around 12 hours of private study in their own time.
No prior wine knowledge is required however the course builds upon the WSET Level 1 Award in Wines course. It is not essential to complete Level 1 to join the Level 2 course but if you are a complete beginner you may wish to consider this option.
We recommend you read the course specification document HERE for full details of the content, structure and assessment criteria. Any questions please get in touch.
The Fee of £385 includes:
All WSET course materials including; Looking Behind the Label course manual, Study Guide, Specification book, and SAT ® Tasting Card
Over 40 delicious wines to taste including Champagne & Port
The use of professional ISO tasting glasses
3 days of professional WSET tuition by a WSET Certified tutor
Teaching of the WSET Level 2 Systematic Approach to Tasting Wine (SAT) ® which will enable you to analyse wines objectively and consistently
Registration with WSET and all examination fees
Internationally-recognised certificate and pin badge upon successful completion
Practice multiple choice questions provided FREE OF CHARGE
Comprehensive student support outside of class time should you have any questions before, during and after the course