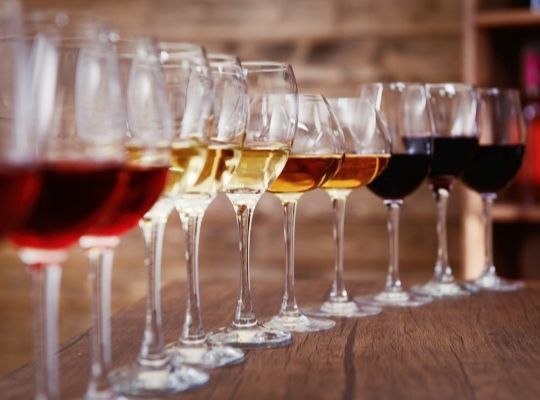 Course Description
Our 4-Week New World Wine Course is a wonderful way to improve your knowledge of wines made in many familiar countries as we taste our way around the world. No experience necessary, and within minutes you will be "tasting like a professional".
As well as tasting 24 lovely wines and finding out about how and where they are made we also decode the mysteries of wine labelling so that you understand your AVA from your WO.
Over the course we also look at where the price of your wine comes from and how the international wine business works, how to store and serve wine also some common wine faults to help you spot that occasional "bad bottle"
The four weeks are shown in more detail below, with grape varieties shown in bold.
11th March: Introduction to New World Wines
An exploratory journey across the world tasting 6 lovely wines, 4 white and 2 red from 5 different countries, including Australia, South Africa and the USA.
Australia: Chardonnay
Australia: Semillon
Chile or New Zealand: Gewurztraminer
USA: Viognier
South Africa: Merlot
Uruguay: Tannat
18th Mar: Explore Australia & New Zealand
More than anywhere else, New Zealand and Australia are the flagbearers for the "Brave New World" of wine. If you've only ever drunk mass-produced supermarket wines you're in for a treat, with six great wines that are uniquely from "Down Under".
New Zealand: Sauvignon Blanc
New Zealand: Pinot Gris
New Zealand: Pinot Noir
Australia: Riesling
Australia: Shiraz
Australia: Cabernet Sauvignon
25th Mar: Chile & Argentina - The Beautiful South
Two of the UK's most popular countries for supplying wine, Chile for its dazzling array of fruity favourites and Argentina for its powerful Malbecs. Join us for this tasting and discover both countries have more to offer than you might think.
Chile: Chardonnay
Chile: Merlot
Chile: Carménère
Argentina: Torrontes
Argentina: Cabernet Franc
Argentina: Malbec
1st April: South Africa and USA - A Grape Encounter
Six lovely wines showcasing the very old "New World" winemaking of South Africa and what Californian wines can deliver away from those supermarket brands. Iconic Pinotage and Zinfandel backed by a host of other varieties basking in the sun.
South Africa: Chenin Blanc
South Africa: Pinotage
South Africa: "Cape Blend" – Cabernet Sauvignon/Merlot/Pinotage or Merlot
USA: Chardonnay
USA: Cabernet Sauvignon
USA: Zinfandel
Professional ISO tasting glasses, all course materials including tasting sheets & water are provided, along with some suitable regional snacks to help the wine along.