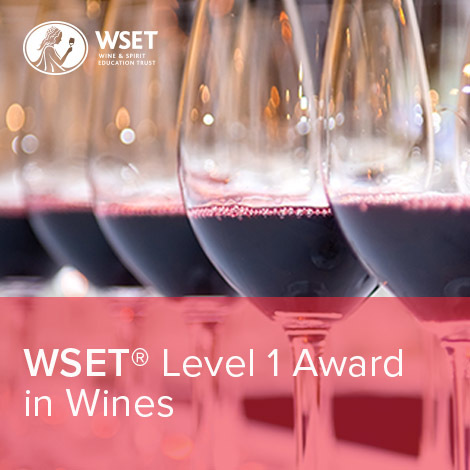 Course Description
The WSET Level 1 Award in Wines is the ideal starting point for anybody new to wine or those beginning a career in wine or hospitality.
What the course covers:
The basic skills and product knowledge required for the service and retail of wine
The main types and styles of wine
Common wine grapes and their characteristics
How to make food and wine pairings
How to store and serve wine
How to taste and describe wine using the WSET Level 1 Systematic Approach to Tasting Wine (SAT)
The WSET Level 1 Award in Wines has full accreditation from OfQual as part of the UK Government's Qualifications & Credits Framework as a Level 1 Vocational Qualification.

We recommend you read the course specification document before you sign up for the course. You can read this document by clicking here
Course format:
This course is delivered in a day with the exam at the end of the session and includes a tasting of 9 different wines.
Examination:
To obtain the WSET Level 1 Award in Wines Qualification, you will need to successfully pass the exam. The exam is made up of 30 multiple-choice questions to be completed in 45 minutes. You must answer at least 70% correctly to pass the exam.
Course Schedule & Important Dates:
Sunday 7th Novermber 9am to 5.30pm
Registration Deadline: Friday 29th October
The course fee of £185 includes:
Course study guide, posted to you at no extra charge
Full day's tuition with a fully certified WSET course educator
Examination preparation session inc mock exam questions
In class examination

Internationally recognised WSET qualification including certificate and pin for those who pass the exam
Special Educational Needs:
Please make the school aware if you have a condition which may mean that you will qualify for additional help during the exam such as dyslexia.
Including...
WSET Level 1 Award in Wines classroom course
WSET Level 1 Award in Wine course classroom exam