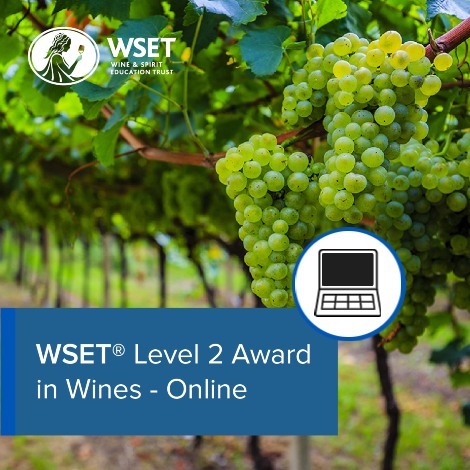 Event Description
What the course covers
You will gain knowledge of the world's principal, and regionally important, grape varieties, and the styles of wine they produce. Through a combination of tasting and theory, candidates will explore the factors that impact style, and quality, and learn how to describe wines with confidence.
Wine tasting: How to taste and describe wines using the WSET Systematic Approach to Tasting (SAT)
Food and wine: The principles of food and wine pairing
Service and storage: Learn the correct way to store and serve wine and how to recognise common faults found in wine
Labelling: How to decode and understand wine labels
Factors influencing the style of wine: How environmental factors, grape-growing, vineyard and maturation options influence the style and quality of the wines in different parts of the world
Grape varieties: Learn about wine styles produced by key international red and white varieties (Chardonnay, Pinot Grigio, Sauvignon Blanc, Riesling, Cabernet Sauvignon, Pinot Noir, Merlot and Syrah/Shiraz) as well as those made from 22 regionally important grape varieties grown in 70 wine regions
Sparkling and Fortified wines: How grape varieties and winemaking processes influence the style of wines in these two key wine categories
The WSET Level 2 Award in Wines has full accreditation from OfQual as part of the UK Government's Qualifications & Credits Framework as a Level 2 Vocational Qualification. No prior wine knowledge is required. However the course builds upon the WSET Level 1 Award in Wines, which may be more suitable for those completely new to the world of wine. We recommend you read the course specification document before you sign up for the course. You can read the full spec by clicking here.
Course format
The 8 x 2-hour online sessions run on Monday evenings.
Course delivery
The Level 2 Award in Wines online course covers the same syllabus as the classroom course and is delivered in LIVE virtual lessons by one of our certified wine educators
The virtual sessions will be recorded so that you can rewatch them or catch up if you need to miss a session. A link to the recordings will be shared after the first session
Candidates will receive a complete WSET Level 2 Award in Wines course study pack, comprising the course book (a comprehensive guide to the wines of the world 'Behind the Label'), a study guide (complete with maps, example questions and forms for your own tasting notes), course specification and laminated 'Systematic Approach To Tasting' card
The course includes 16 hours online tuition (8 x 2 hour sessions) and we recommend a minimum of 12 hours additional study
Your tutor will taste 12 wines with you on the course (for details of how to order the wines for your course see below)
You will receive access to practice multiple-choice revision questions specific to this course
You will be sent details of how to join your LIVE sessions when you book.

Please note a reliable broadband connection is essential for the completion of this online course as are basic computer skills.
Examination
To obtain the WSET Level 2 Award in Wines Qualification, you will need to successfully pass the exam. The exam is a 50 multiple-choice question paper to be completed in one hour. You must answer at least 55% correctly to pass the exam.
The exam is taken, from home, using Remote Invigilation Technology, on a date and at a time that suits you. Further details will be provided at the time of booking the exam and you can view WSET's Remote Invigilation guidance here. Please note that we will need 15 working days notice to schedule the exam for you.
Course Schedule and Important Dates
Registration Deadline: Monday 22 January
The 8 x 2-hour online classroom sessions run from 7pm to 9pm as follows:
Monday 29 January
Monday 5 February
Monday 12 February
Monday 19 February
Monday 26 February
Monday 4 March
Monday 11 March
Monday 18 March
The course fee of £370 includes:
All WSET course materials posted to you at no extra charge including 'Looking Behind the Label' course manual, Study Guide, specification and SAT Tasting Card
Eight LIVE virtual, interactive sessions taught by a Local Wine School WSET Certified Tutor
Exclusive access to practice multiple choice questions
Internationally recognised WSET qualification, certificate and pin for those who pass the exam
All WSET registration and exam fees
Course Wines
It is recommended that twelve wines are tasted as part of this course, although this is optional and not essential to complete the course. Please note that the cost of wines is not included in the course fee above.

We have put together a recommended selection of wines, specifically designed to accompany the course and illustrate key learning outcomes. The wines have been negotiated at a specially discounted price, only available to our online students.
The cost of the wines is £143 including delivery. Details of how to order your case of wines will be provided when you book your place.
Course Details
We will share course and Zoom details with you via email prior to the course start date. Please look out for emails from us and check junk/spam folders so that you do not miss any important information.
Special Educational Needs
Please make the school aware if you have a condition which may mean that you will qualify for additional help during the exam such as dyslexia.
How to get there
This event is online only.
Local Wine Schools in the Press

'The best wine courses and classes in the UK'
Daily Telegraph

'Londons loveliest wine tasting classes'
Time Out Magazine