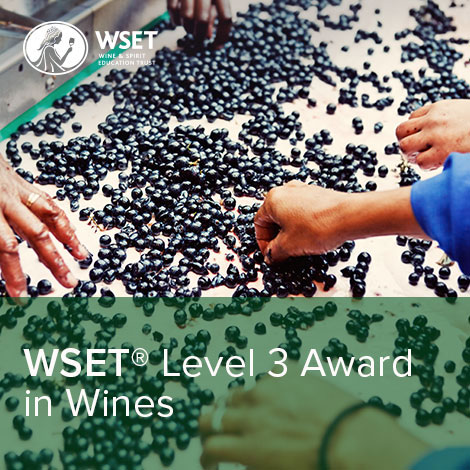 Event Description
WSET Level 3 Award in Wines is an advanced level qualification perfect for wine enthusiasts wanting to progress their knowledge and for professionals in the wine industry.
For anyone seeking to delve deeper into the world of wine, this qualification provides a detailed understanding of grape growing and winemaking as well as all the leading wine appellations and key regions of the world.
Upon completion, you will be able to assess wines accurately and use your understanding to explain wine style and quality confidently.
After successfully passing the exam you will receive a WSET certificate and lapel pin and you will even be able to use the associated WSET-certified logo.
This course runs over 6 alternate Saturdays to aid home study and revision.
Course dates:
Regsitration closes 12th April 2024
6 Saturdays- 20th April, 4th and 18th May, 1st, 15th and 29th June 9.30am - 4.30pm
Q. What if I can't make one of the dates? No problem - we can catch you up and ensure you receive the tuition for anything you miss.
What you'll learn
Unit 1
The key factors in the production of wine: location, grape growing, winemaking, maturation and bottling
How these key factors influence the characteristics of the principal still wines of the world, sparkling wines of the world and fortified wines of the world
How to apply your understanding to explain wine style and quality
Unit 2
Tasting wines, describing their characteristics and evaluating their quality using the WSET Level 3 Systematic Approach to Tasting Wine® (SAT).
If you are an employer wishing to train your staff, this course will equip them with knowledge and understanding of a wide range of products. (Suitable for someone in a supervisory level position in wine sales and service).
Assessment
Unit 1 is assessed by a closed-book exam of 50 multiple-choice questions and a paper of short, written answers. Unit 2 is assessed by a blind tasting of two wines.
This qualification is regulated by Ofqual
Entry requirement
You should hold the WSET Level 2 Award or demonstrate an equivalent level of knowledge.
Want to see exactly what is covered in the Level 3 in Wines Course? Click here to view the full Level 3 Course Specification (with Example Questions)
The sessions
WSET recommends at least 54 hours of home study in addition to the 30 hours of classroom sessions.
Day 1 - Sessions 1,2,3 - Intro, tasting technique, natural and human factors with grape-growing & human factors with winemaking
Day 2 - Session 4,5 - Whites wines: Germany, Alsace, Austria, Tokaji, Burgundy, Loire, Bordeaux PLUS EXAM ADVICE / PRACTICE
Day 3 - Session 6,7,8 - red/rosé wines: Bordeaux, SW France, Loire, Red wines of Burgundy, Wines of Rhone, S France
Day 4 - Session 8, 9, 10 - Wines of Spain, Portugal, Northern Italy, Central & S Italy, Portugese reds
Day 5 - Session 11, 12, 13 - Premium New World reds and whites and New World specials
Day 6 - Session 14,15 - Regional new world wines, Sparkling Wines, Fortified Wines. EXAM
If you cannot be present on the exam day there are some options - we can help you arrange to take the exam in London subject to payment of some additional fees.
Q. What's included in the Course Fee?
All WSET course materials including; Course manual, Study Guide, Specification book and Tasting Card
ISO professional tasting glasses are provided at classroom sessions
All tasting wines (approx 60 wines)
All course tuition by Neil Bull DipWset, a highly qualified and experienced WSET-certified educator
Regular practice questions and homework, marked with detailed feedback
Registration and certification with WSET as well as the examination Papers (Theory Multiple Choice & Written plus Tasting Paper)
Flexible payment options are available on request. Please get in touch to discuss this. Please note full payment is required before the course start date.
Local Wine Schools in the Press

'The best wine courses and classes in the UK'
Daily Telegraph

'Londons loveliest wine tasting classes'
Time Out Magazine