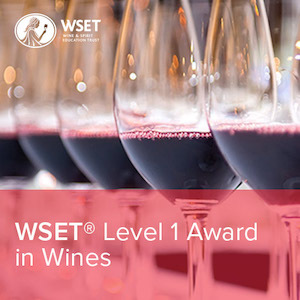 Event Description
Who would love to get to grips with the wonderful world of wine! Plus, ideal for those who are considering embarking on a professional career in the drinks industry.
Wine Tasting: Taste and describe wines using the WSET® Systematic Approach to Tasting
Food and Wine Matching: A practical guide to the key considerations when matching food and wine successfully
Wine Service and Storage: Learn the correct way to store and serve wine and recognise common faults found in wine
Social Responsibility: A guide to sensible drinking
Types and Styles of Wine : Learn about what makes wines taste different
Grape Varieties: Learn about the characteristics and styles of wines produced from the main grape varieties
Main white grape varieties: Chardonnay, Sauvignon Blanc, Riesling
Main black grape varieties: Cabernet Sauvignon, Merlot, Pinot Noir, Syrah/Shiraz
Named Wines: Pinot Grigio, Sancerre, Chablis, Sauternes, Beaujolais, Châteauneuf-du-Pape, Rioja, Chianti
Number of Wines Tasted: Minimum 9 wines will be tasted as part of the course
Study Materials: Students will receive the WSET Level 1 Study Guide
Duration of course: 6 hours tuition plus the examination
Examination: 30 multiple-choice questions to be answered in 45 minutes. A mark of 70% required to pass
Certification: All students who pass will be issued with a certificate suitable for framing and a lapel pin.
You can read the full specification for the course here - WSET LEVEL 1 AWARD IN WINES


The Fee includes
• study book
• 6 wines to taste
• practical food and wine pairing
• professional WSET tuition by WSET-Certified Tutors
• examination fees
• internationally recognised WSET qualification certificate
Special Educational Needs:
Please make the school aware if you have a condition which may mean that you will qualify for additional help during the exam such as dyslexia.
Local Wine Schools in the Press

'The best wine courses and classes in the UK'
Daily Telegraph

'Londons loveliest wine tasting classes'
Time Out Magazine