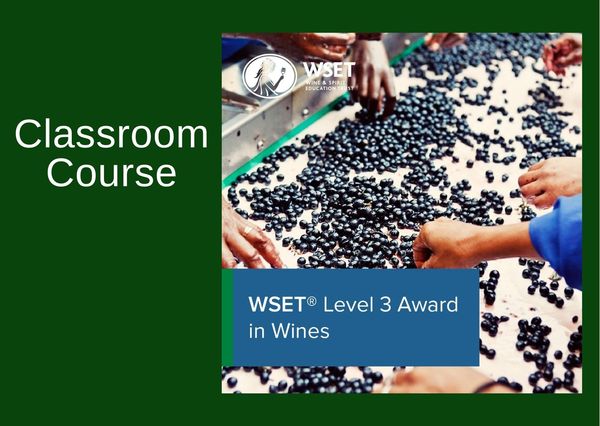 Event Description
Take your wine knowledge to the next level with this highly regarded advanced wine qualification. Wine and Spirit Education Trust (WSET) courses provide globally recognised qualifications suitable for wine industry professionals and wine enthusiasts.
Payment plan available to spread the cost
As a WSET Approved Programme Provider (APP), East London Wine School has been certified to offer the WSET Level 1, Level 2 and Level 3 qualifications.
Level 3 is an advanced, challenging and rewarding course for you if you're looking to delve deeper into the world of wine. It offers you a detailed understanding of grape growing and winemaking.
Upon completion you will be able to assess wines accurately and use your understanding to confidently explain wine style and quality. By passing the exams, you will receive a WSET Level 3 in Wines certificate and lapel pin and will be able to use the associated WSET certified logo against your name.

What's covered on the course:
Unit 1: The key factors in the production of wine: location, grape growing, winemaking, maturation and bottling;
How these key factors influence the key characteristics of the principal still, sparkling and fortified wines of the world;
How to apply your understanding to explain wine style and quality.
Unit 2: How to taste wines, describe their characteristics and evaluate their quality, using the WSET Level 3 Systematic Approach to Tasting Wine® (SAT).

Assessment
Unit 1 is assessed by a closed-book exam of 50 multiple-choice questions and 4 short written answers.
Unit 2 requires you to write accurate assessments from a blind tasting of two wines.
This qualification is regulated by Ofqual.

Entry requirement
It is recommended that you hold the WSET Level 2 Award in Wines or can demonstrate the equivalent level of knowledge.
Suitable for keen wine enthusiasts and people working in the drinks industry and hospitality, such as sommeliers and hotel, restaurant and pub staff, wine retail staff and managers, wine buyers and distributors.
The course is delivered in person in English and therefore a good level of English is required.
A course study pack will be posted to you upon booking for this course (free to UK mainland addresses). We highly recommended that if possible you read the course textbook prior to the start of the course. We also recommend 54 hours home study time in addition to the classroom time. Full specification here
Course Schedule & Important Dates:
Sunday 4th Feb 2024 from 10am to 5pm
Sunday 11th Feb 2024 from 10am to 5pm
Sunday 18th Feb 2024 from 10am to 5pm
Sunday 25th Feb 2024 from 10am to 5pm
Sunday 3rd March 2024 from 10am to 5pm
Sunday 10th March 2024 from 10am - 1pm (exam)
Exam: 30 min blind wine tasting, plus 2 hour theory paper of 50 multiple-choice questions and 4 short written answer questions. You must answer at least 55% correctly in both papers to achieve a pass in the exam and gain your WSET Level 3 in Wines qualification.
Course Format:
The course will include 5 classroom lessons with a WSET approved educator. These lesson times are detailed above in the course schedule.
Enrolled students will also receive FREE practice short written answer questions and multiple-choice questions. You will receive feedback on your answers and on your tasting notes so that you can improve your technique. You will also have access to a series of useful videos.
The Course Fee of £895 Includes:
Course study pack (posted to students)
Tasting of 60 wines
Exclusive and free access to practice short written answer and multiple choice questions
Tutor feedback on your tasting notes and practice revision work
Professional WSET tuition
Exam & all related examination fees
Internationally recognised WSET qualification certificate and pin for those who pass the exam
Local Wine Schools in the Press

'The best wine courses and classes in the UK'
Daily Telegraph

'Londons loveliest wine tasting classes'
Time Out Magazine