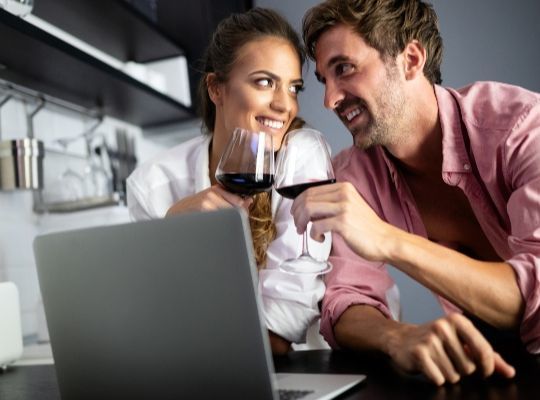 Your favourite wine school is now online! And the best way to join is through becoming a member of our Wednesday Wine Club subscription plan.
Each Wednesday (8pm-9.30pm) join us LIVE as we transport you to the corners of the globe from your own home using Zoom! Using Google Earth we take you to the vineyards, we list to winemakers on carefully curated videos as we taste their wines and we run light-hearted review quizzes to help you retain the things you learn.
We have partnered with a local wine retailer to deliver wines at 15% discount so that you can taste along. Each month we send our members details for ordering a case of wine and at our weekly sessions we taste 3 of them together and give you resealing advice so you can return to the wines over subsequent days (you don't need to finish them all there and then).
If you need to skip a session we register a credit for you. Save your credits and use them for absolutely anything, e.g. to invite others to join you for a week (they can order a 3-pack of wine or share yours), book any of our live classes in Cambridge (Saturdays if you live some distance away), convert them to Gift Vouchers or ask us to host a private tasting for your friends or family.
You also have continuous access to our growing library of recordings so you can catch up with anything you missed. There is no obligation to purchase wines for sessions you know you cannot attend (you can reduce the case size when you order).
Monthly payment is £50 for ONE or £80 for TWO (a 25% saving on our individual session prices). Join any time, leave any time.
Recent Review: "We learned loads and had lots of fun. Super convenient and highly recommended," Tim Simcox.

'The best wine courses and classes in the UK'
Daily Telegraph

'Londons loveliest wine tasting classes'
Time Out Magazine

Best Wine Courses - "5 Wine Schools I rate"
Delicious Magazine