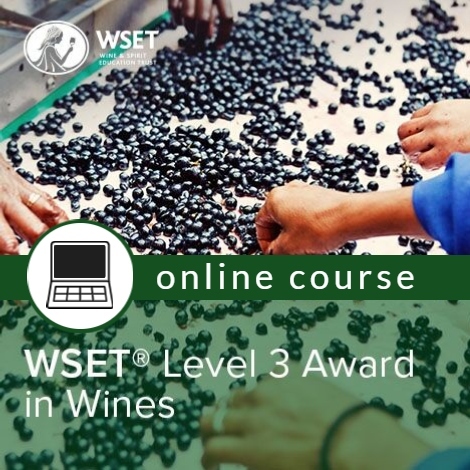 The Level 3 Award in Wines online course covers the same syllabus as the classroom course and is delivered in LIVE virtual classroom sessions by one of our certified wine educators using Zoom.
The course that takes you to an advanced level of wine knowledge and wine tasting skills. Students should have already completed the WSET Level 2 award in Wines.
You'll gain knowledge of all the major wine regions of the world and the wines they produce as well as advanced understanding of winemaking technqiues and viticulture practices. The result will be you should be able to describe the natural factors and human influences that have produced the style and flavour of wines you find in shops and restaurants.
Why choose to study online with us?
Our online courses offer a near classroom experience - you will be tutored by a professionally qualified instructor, these are not 'self-study' or 'distance learning' courses
You will be able to interact LIVE with your tutor and other students and ask questions during the sessions
All courses booked through Cambridgeshire Wine School also include online exam preparation/revision sessions
The exam will be takem in the classroom in Cambridge at the end of the course (date and time will be arranged to suit the group).
For more detail on the course structure and content, as well as assessment criteria and sample exam questions - view the full Level 3 specification.
You don't need to worry about sourcing wines to taste on your online course. We have specially selected a range of wines for each course to illustrate key learning outcomes. When you register for the course you will be sent a secure link with an option to buy the recommended wines at an exclusive discounted price.
All courses booked include an individually tailored support package designed to ensure that you are fully prepared for your exam including:
Telephone/e-mail based mentoring service
Online exam preparation session
All our course tutors are knowledgeable and passionate about wine and they are some of the best wine educators in the business.